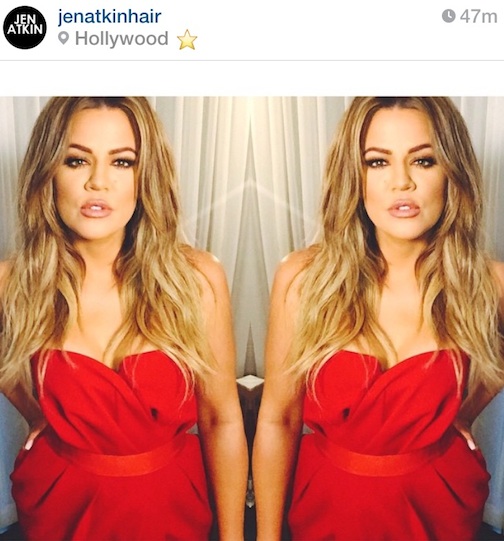 Last night's Oscars red carpet was a different dynamic for me, as instead of a very Y chromosome oriented snarking and champagne hen fest, my viewing partner last night was the guy I'm seeing. He's a man's man and did the lord's work even putting up with having E! on the TV and I quickly learned my commentary was entirely lost on him. I kept asking him what he thought of each of the stars as they sauntered down the red carpet and he had zero opinion, for the most part. Which is to be expected. EXCEPT that he thought that Khloe Kardashian's hair looked great. I agree, so when I scored the deets, I had to share 'em. Jen Atkin did the hair honors, inspired by a "tousled wind-blown goddess" effect to complement her red Lanvin gown. Here, the beauty breakdown.
"To start, I applied Kardashian Beauty Body Volume Foam at the roots and Blow Out Cream on the mid-ends.  Then I dried her hair with a GHD Blow Dryer and a Harry Josh Boar Bristle Round Brush. 
Next I used a two inch Hot Tools Iron and curled two inch sections to create a loose wave.  Then I had Khloe flip her hair upside down and I sprayed Oribe Dry Texturizing Spray at the roots for extra volume.  
I finished by using the end of a rat tail comb to separate the waves and applied a pea sized amount of Leonor Greyl Éclat Natural to the ends for added moisture."
What do you think of this look on Khloe Kardashian? I think it's a hair beauty best.