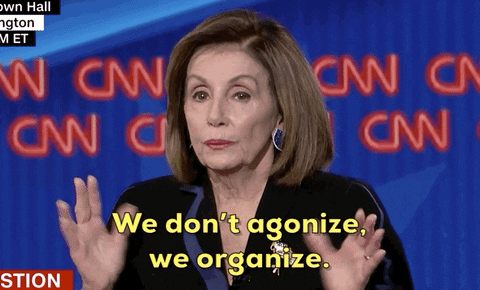 *We're committed to transparency. Products marked with an asterisk were given to us to try by the brand. As always, all thoughts expressed on Rouge18 are our honest opinions.
Eyeshadow is my absolute favorite beauty product, so naturally I own 84 eye brushes (actually… I counted).
I used to throw them all in a cup or mug, but it ended up taking so much time to find the exact type of brush I was looking for. That's when I embarked on a mission to find 1) a makeup brush organizer with dividers to organize my brushes by type, and 2) the right makeup organization system for ease of use.
My acrylic storage in shining armor was a 6-slot organizer from Muji. It's no longer available, but you can find a ton of other organizers of similar shape to fit your needs at Muji or on Amazon.
Here's my system for organizing my brushes.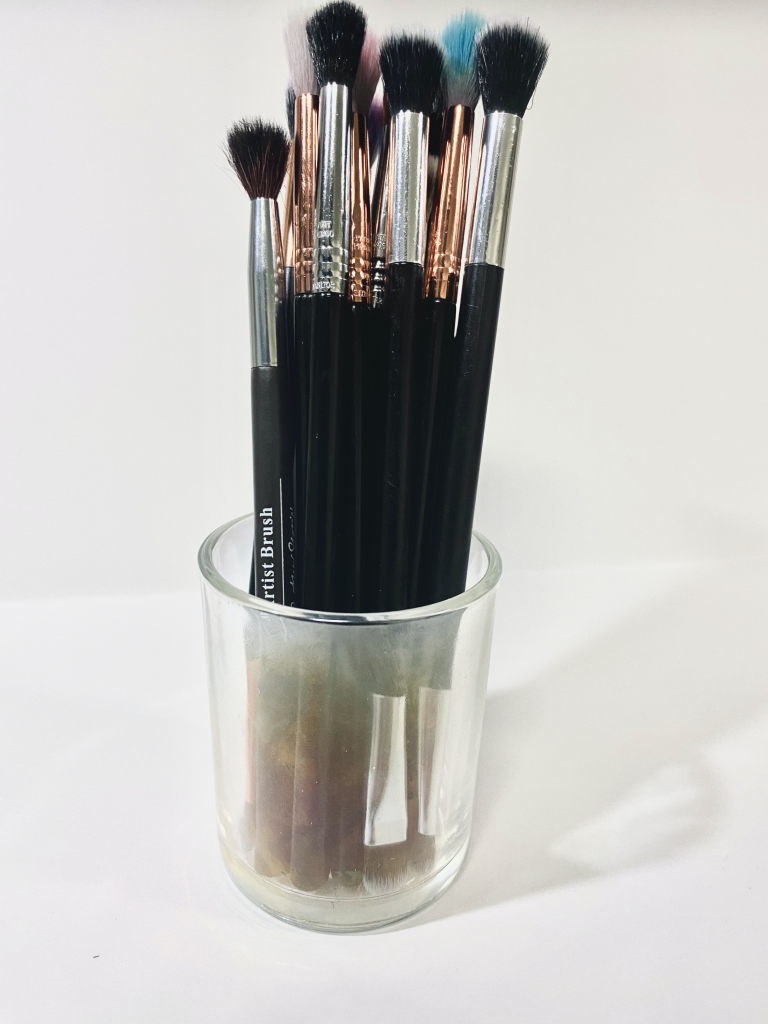 Front Slot 1: I organize my brushes from largest/fluffiest to most detail-oriented. So slot #1 contains all my big, fluffy blending brushes. These are the brushes I use in every look for transition and crease shades. My favorite brush in this slot—I actually have 3 of them—is the Sigma E35 Tapered Blending Brush.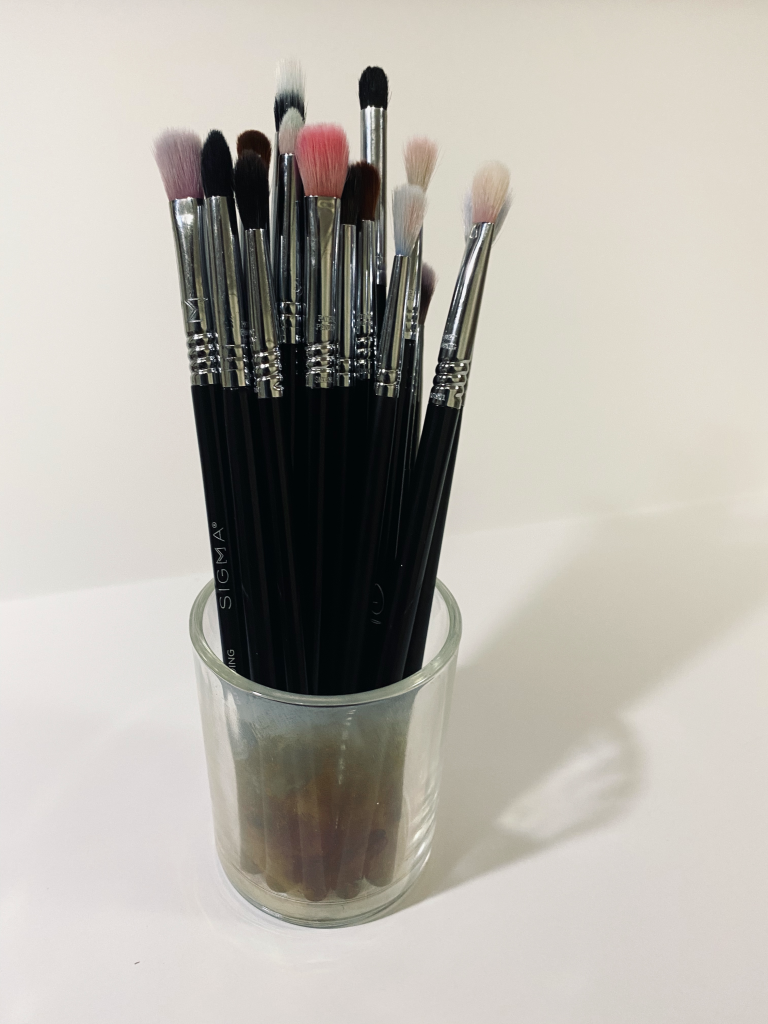 Front Slot 2: Next, I have all of my detail blending brushes. These brushes are fluffy, but smaller (fewer bristles) and denser (bristles packed tighter together). They deposit more color than bigger brushes, but don't diffuse shadows quite as much, by design. These brushes are great for deepening the crease or outer v or for just blending in smaller areas. They're also great if you have small eyes, and typical blending brushes don't work well for you.
My favorite detail blending brushes are the Sigma E36 Blending Brush, Morphe M514 Detail Round Blender, and Sigma E27 Detail Blending Brush.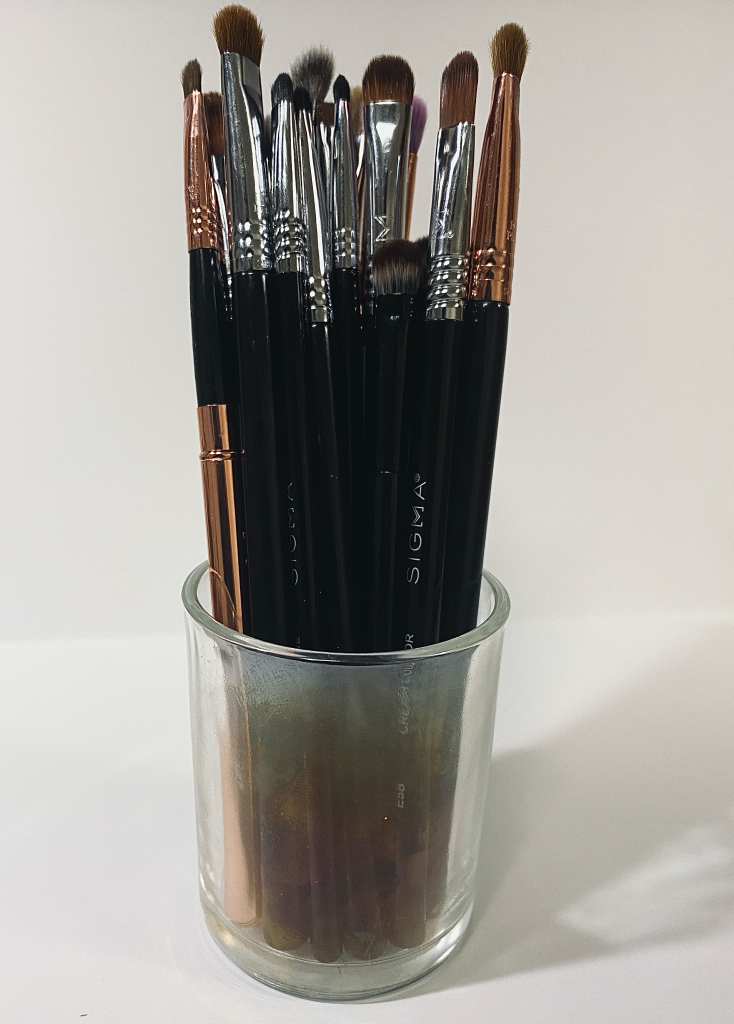 Front Slot 3: Slot 3 is home to my packing/shader brushes. These brushes are flat and dense to deposit intense color on the lids. My absolute favorite shader brush is the Sigma E55 Eye Shading Brush, of which I own 2. I also like the Sigma E21 Smudge Brush for detail shading and Sigma E58 Cream Color Brush for cream shadows.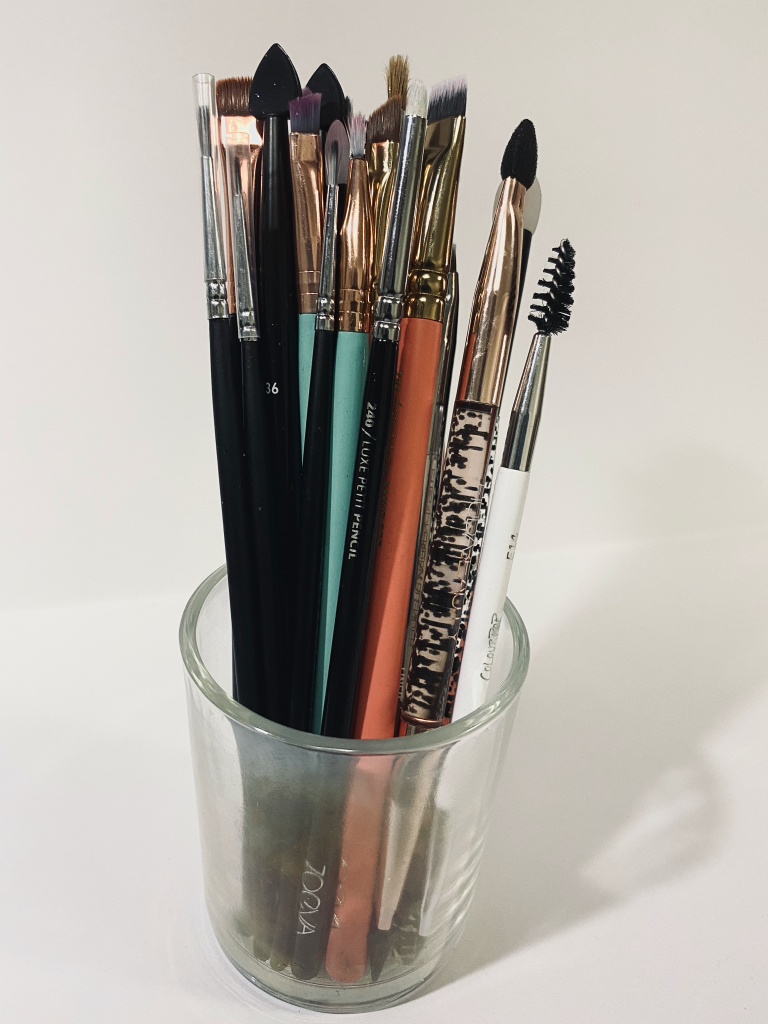 Front Slot 4: This slot is one of the most exciting ones! Slot 4 is where I keep all of my detailing liner brushes, angle or definer brushes, glitter tools, and brow brushes. When I use a cake liner or when I need to do detail line work, I reach for one of the fine liners from Suva Beauty, my favorite being the Suva Beauty Six Thirty Liner Brush.
My secret to smooth concealer/primer application for a half cut crease is to use the spade side of the NYX Dual Silicone Applicator. It's silicone, so it applies liquid products opaquely and the spade shape of the brush mirrors the shape of the inner corner of the eye. I also use this brush and other silicone brushes, like the Sephora Collection Give Me Glitter Applicators, for applying glitter or very glittery shimmer shadows. Silicone is easy to clean; just wipe off any remaining product. And, now, you don't have to worry about glitter particles getting stuck in brush hairs of your traditional brushes.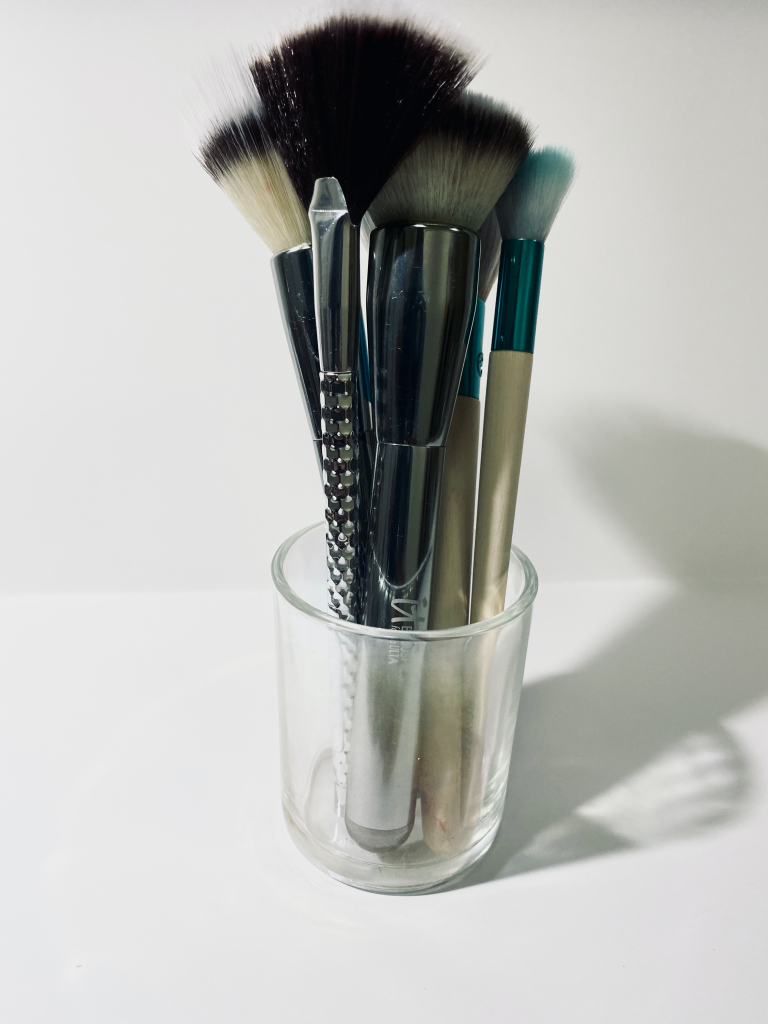 Rear Slot 1: The slots in the back are where I keep bigger brushes I use less frequently. Rear slot #1 contains all my face brushes. From time to time, I wear foundation or highlight, so I keep these brushes around for that. A big fluffy face brush is also useful for brushing off eyeshadow fallout from your face. I also keep my disposable lipstick wands in a double shot glass in this slot.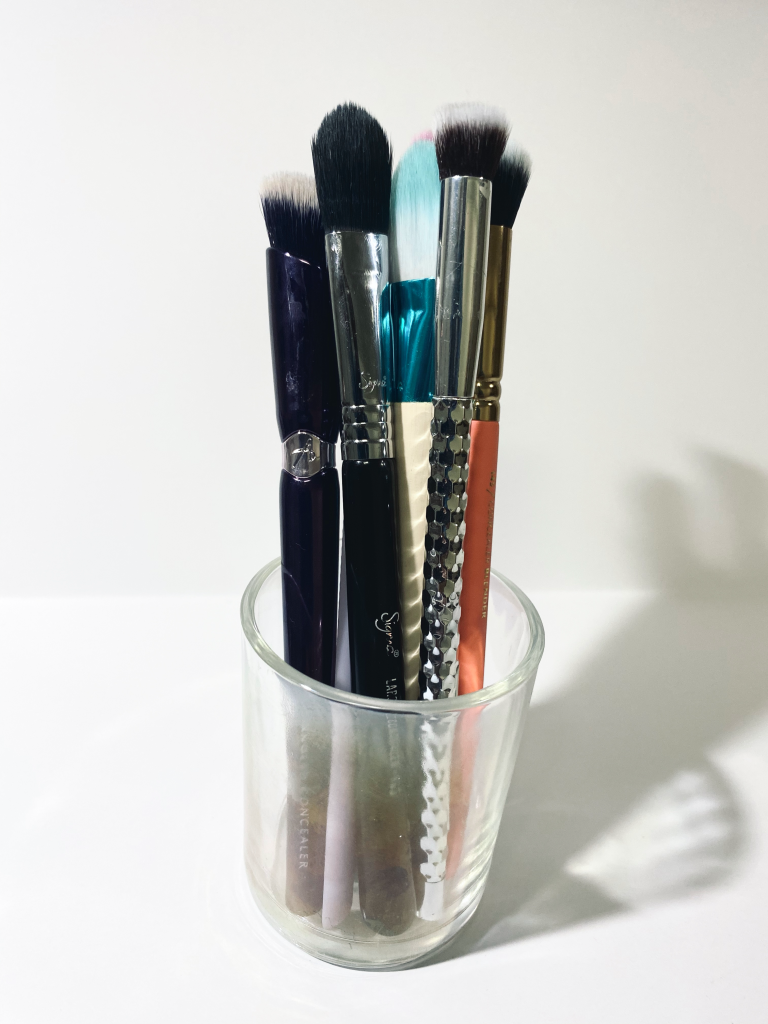 Rear Slot 2: Finally, the last back slot is where I keep concealer/foundation brushes I use to apply eyeshadow primer. My favorites are the Sigma F65 Large Concealer Brush and *Ecotools Class Foundation Brush from their Blooming Beauty Kit.
While this system might seem very involved, it makes doing my makeup in the morning so much easier and faster when I know where everything is!
How do you like to organize your brushes? Did you find any of these tips helpful? Let us know in the comments!