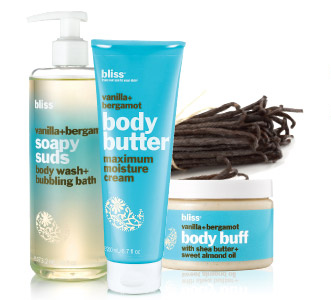 I'm not one to layer the same scent — the idea of a body wash, cream and perfume of the same vain reminds me of a bath & body works kit from middle school. But after trying the Bliss Vanilla + Bergamot scrub, I realized I also needed the lotion. And the hand wash. The whole line smells delicious and I'm just upset it doesn't come in the form of deodorant or shampoo. I want to live in a vanilla + bergamot-scented world.
The Bliss Vanilla + Bergamot set is available on Bliss.com for $60. 
What's your favorite scent to layer?
—Julia Casella
Follow Julia on Twitter: @Julia_Casella.