Fictionary is a column showcasing beauty-related words that don't exist, but should.


Rodin Olio Lusso is one of THOSE items, beauty friends. An HG skin care gem you happen upon once a DECADE. This non-prescription product changed the topography of my skin DRAMATICALLY in a Norma-Desmond-levels-of-drama kind of way. It delivers a smoother, healthier, and hydrated texture. When I don't have it on, my skin feels thirsty. After testing out the stuff, within a WEEK there was less new acne. Within two weeks? The old stuff was finito and the redness from the ghosts of acne past had faded considerably.
Olio Lusso has been clinically tested by my skin savior Dr. David Colbert, who recommends using this yellow miracle blend pre-Retin-A to stave off flakiness. I've always been a Loilist–I'm very loyal to oil. I use the stuff religiously per Courtney, my skin care sensei, to remove makeup and SPF every night. But I'm new to using it in lieu of a moisturizer (of course, I layer SPF on top–I'm not CRA) and I'm a total convert. I'll never use a regular moisturizer again. I'm using 4 drops to remove makeup at night (there's no need to moisturize after; it magically imparts the right amount of hydration for evening) and 1-2 drops in the morning after a spritz of Vichy Thermal Spa Water to moisturize. Applying it to damp skin reduces the amount you'll need to apply, which is important because it costs the earth ($150 for 1 fluid ounce). When something works this well, though? I'll spend. It is to skin what coconut water is to the system.
Created by former model/stylist Linda Rodin in her bathroom, this magical elixir boasts a blend of jasmine oil, argan oil, evening primrose oil, orange flower oil, sunflower oil and arnica, among other ingredients. There's a faint fragrance of jasmine and neroli when you apply it, but if that's not your bag (baby), relax. It dissipates within about 30 minutes.
And if you do love the scent? You're in luck, Rodin's got a new scent out, as well. Buy it here for $220. At the risk of sounding like Dame Redundancy Dame, the Rodin Olio Lusso Lip Balm ($30) is ALSO superlative. I put it on at night and wake up with it still ON MY LIPS. WHAT? YES. It imparts a lovely blush shade and yields the most incredible consistency. It's my new favorite balm–so much so that I'm doing pot for it.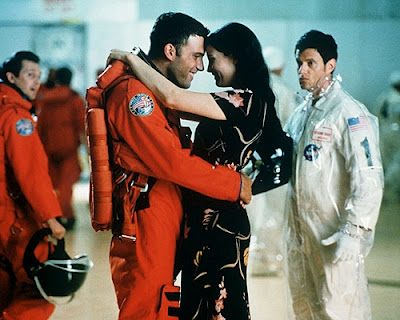 I used to have a POSTER of Ben Affleck as A.J. Frost.
As for Olio Lusso, I'm on hoarding high alert, my friends. I need the Gulf of Mexico of this stuff. I wish I could drill for this kind of oil a la Armageddon's A.J. Frost. It's pacified my peau, yields a glowiness and makes my pores look smaller.
Rodin Olio Lusso retails for $150 at oliolusso.com
What's blowing your hair back, skin-carewise?