Sparkle, Neely, sparkle: This is the 2016 R18 Holiday Gift Guide. For more gift ideas, click here.
Lauren Heller from
Younger
is
Kelsey Peters'
's BFF and roommate. She works as a publicist for "Hector and Dorf" (an avant-garde designer duo), is jewish and for her 26th birthday decides to have a "hot mitzvah" because she wasn't hot for her bat mitzvah.
The Estée Edit Gritty & Glow Magnetic Eye and Face Palettes
 ($58):  A limited-edition set of two magnetic palettes, from a brand made for Millennials (and no one is more Millennial than Lauren), these palettes are ideal for the 20-something #girlboss. Each palette features six shades that are formulated with tiny pearl particles for an elegant sheen.
Candy Shop Vintage Perfume Bottles earrings
($68)
Because these occupy most aptly the intersection of kitschy, cute and sophisticated. As does Lauren.
Mario Badescu 'Multi-Masking' Trio ($20): Lauren is non-stop. I can't even imagine her getting a facial because that would involve putting down her phone. So, instead she lives for the at-home facial. This set helps you multi-mask like a pro, with three essential treatments: a Flower & Tonic Mask to help absorb excess oils, a Super Collagen Mask that boosts, hydrates and smooths fine lines, and an Enzyme Revitalizing Mask that gently exfoliates tired and dull skin.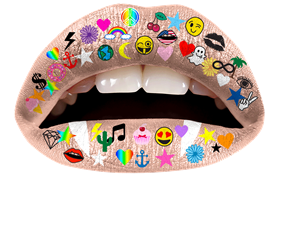 Minis by Violent Lips
 ($10): Lauren is always down to try the latest trend so she'd be all over these temporary lip tattoos.
Shu Uemura Nourishing Protective Oil
 ($69): Lauren is all about wacky art — just look at some of the Hector and Dorf stuff she wears! This hair oil (which she needs for her stick straight hair) is available, for a limited time, with this beautiful Murakami print. This was made for an art hoe like Lauren.
—Julia Casella