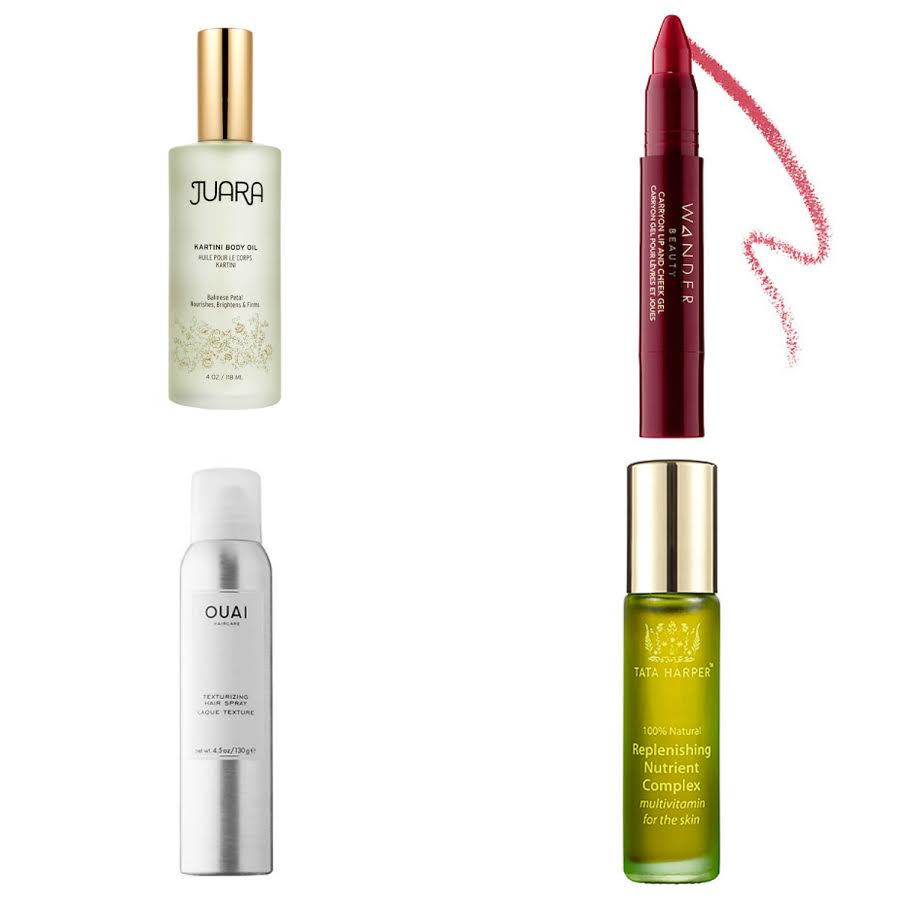 Juara Body Oil
: I've bought
their body cream
more times than I can count since I discovered it
almost three years ago
(seriously–that body creme +
some Mario products
are the only things I'll consistently re-purchase) but I decided to try this oil and I wasn't mad. It's ultra-light and smell divine. It's named after Princess Kartini, one of the most beloved rulers of Indonesia, who used her power and femininity to promote education for women and children. Get involved.
Wander Beauty Lip & Cheek in Tinseltown: I love me a duo lip and cheek product and this fall shade is the silver linings playbook to the changing seasons. Wander Beauty has never disappointed me (I keep their foundation stick at my desk for I-guess-I'm-doing-my-makeup-at-work mornings) and this product is no exception: creamy, pigmented and quick.
Ouai Texturizing Spray:
 My love for this brand has no bounds. I'm praying Jen comes out with a perfume soon because I find myself spraying this just for the scent. Of course, it's more than just a pretty smell (and bottle). It's a light texturizing spray, and even crosses over into dry shamp territory because it includes volcanic minerals that expertly absorb excess oil.
Tata Harper Replenishing Nutrient Complex:
After learning that Tata uses this when she flies (she applies some to her hands and then pats onto skin during the flight), I knew I had to stash some in my bag for my next trip. I had a mini one from
her essentials kit
and used it on my recent flight to Boston to give my skin a serious dose of nutrients in the air. It absorbs instantly (it doesn't even feel like an oil, it disappears so fast) and leaves you fresh and hydrated.
—Julia Casella