H2O+ Beauty's new Elements, Infinity+, Oasis, and Waterbright collections are each designed to solve different skin issues. And, completely non skin-care related bonus: All of their new products come in pretty, stylish packaging that will add some character to your makeup shelves. The range features so many new products I'm excited about, but I'll limit it to just a few.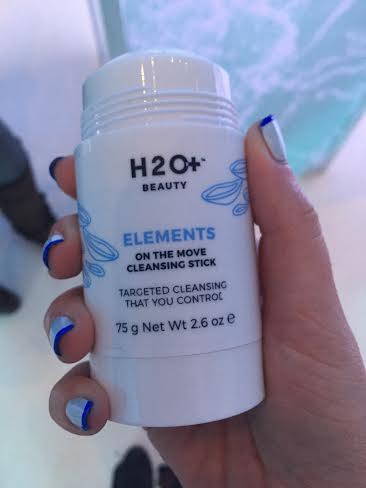 Elements On the Move Cleansing Stick
We all know that one of the most annoying things about traveling is packing your toiletries. Especially when you're not checking a bag and you have to limit the amount of liquids you bring, a daunting task for makeup lovers. Now you don't have to sacrifice your skincare routine when you travel! I really love this On the Move Cleansing Stick: All you do is wet your face, rub the product around in a circular motion until it foams, and then wash it all off. It's also nice since it massages your face as you apply it, and it leaves it feeling just as fresh and clean as any other face wash you might use. I still had some eye makeup left after washing my face with this, so I've gotten into the habit of removing my eye makeup with micellar water (or makeup wipes or whatever suits your fancy), then washing with the cleansing stick. Also, make sure you thoroughly rinse the head of the cleanser before putting the cap back on! You want to make sure you've removed any foundation gunk that might have gotten on it when you were applying it to your face.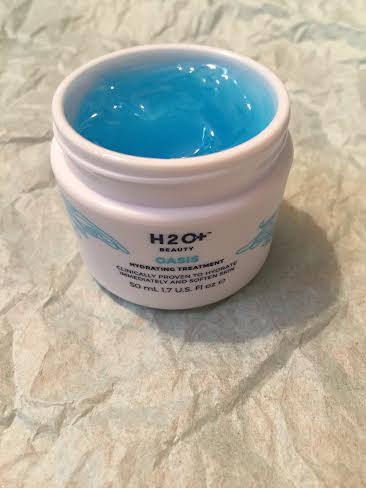 Oasis Hydrating Treatment
This moisturizer was also unlike any other I had used. The blue gel rapidly absorbs into your skin and is clinically proven to keep your complexion softer, smoother, and more hydrated for 24 hours. I was skeptical when I took the lid off and realized it was a gel (it originally triggered some scary memories of applying aloe vera to a painful sunburn, but I overcame these). I applied this to my skin before sleeping, made sure to rub it throughly in all over my face and neck, and did notice a difference throughout the next day! The product is made to be worn during both the day and night, but I was afraid it might be too thick to wear under my foundation, concealer, etc during the day, so I think I'll keep it as a nighttime routine for now. Also, tip: apply it after cleansing and toning your skin!
Waterbright Illuminating Serum
All skincare lovers know the importance of a good serum. This one from H2O+ is made to reduce the intensity of dark spots and enhance your skin's radiance, clarity, evenness, brightness, and texture. I applied this before sleeping and in the day before putting on the rest of my makeup, and my skin did feel much better throughout the day. I also noticed my skin didn't get that greasy/oily feeling I sometimes get around the middle of the day when my makeup starts to fade. If you're trying to get rid of dark circles or just make your skin look a little brighter in general, this is a must-have for your skincare routine.
H2O+ Beauty has tons of new products coming out, and they will be available on their website (h2oplus.com) starting mid-May and launch nationwide at Ulta in July, so be sure to check them out!
—Devon Kelliher
Follow Devon on Instagram.