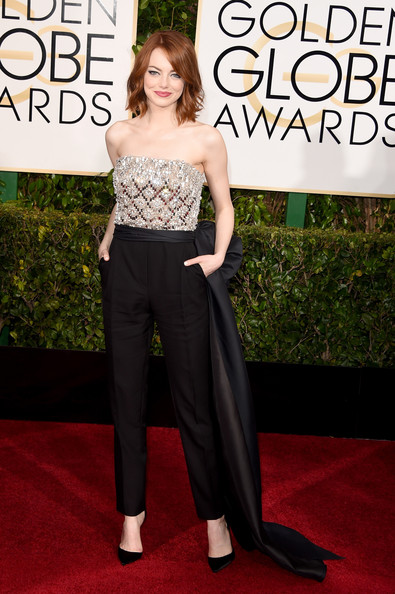 One of my favorites of the evening! Makeup artist Rachel Goodwin created Emma Stone's luminous, modern makeup look for the Golden Globes tonight. Here'show to get the look, in her words.
SKINCARE: "For skincare, I used CHANEL Hydra Beauty Crème and CHANEL Hydra Beauty Nourishing Lip Balm to prep Emma's face and lips.
FACE:
I applied Revlon PhotoReady Airbrush Effects Makeup in Vanilla to Emma's complexion. On the cheeks, I used the new CHANEL Le Jardin de Chanel Powder Blush, and instead of powder I applied an anti-shine balm to the center of the face.
EYES: I started by applying CHANEL Stylo Yeux Waterproof Eyeliner in Black Shimmer. I mainly focused on the top of the eye, going across the top of the lid and out into an angled, cat eye shape. Over the liner, I added a navy shadow from CHANEL Quadra Eyeshadow in Tissé Riviera   then applied the silver shade from the same palette to the center of Emma's bottom lashline. I filled in her eyebrows with CHANEL Crayon Sourcils Sculpting Eyebrow Pencil and combed her brows up with gel. I wanted her brows to frame the eyes and to appear slightly thicker. To finish the eye look, I coated Emma's lashes with CHANEL Le Volume de Chanel Mascara in Noir.
LIPS: To give equal focus to Emma's lips, I applied Revlon Ultra HD Lipstick in HD Iris."
What do you think of this look on Emma Stone?