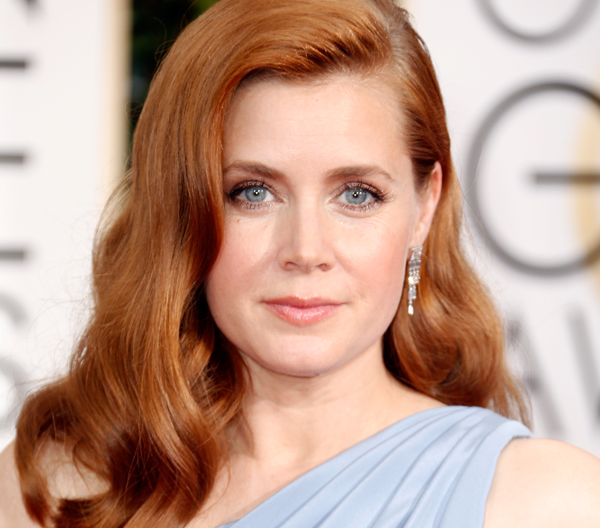 Amy Adams was another of the night's most stunning looks! Celebrity makeup artist Stephen Sollitto was inspired by Amy Adams' pale slate floor-length gown. "We thought instead of steering toward greys and slates for the eyes, we would smoke them with bronze and copper, with warm apricot cheeks and lip." Here's how he got the look.
FACE
I prepped Amy's skin with CHANEL Sublimage La Crème Texture Suprême. This is the most luxurious cream you will ever feel. Important on a day like today, when the skin is just as important as eyes and lips. Starting with CHANEL Les Beiges All-in-One Healthy Glow Fluid SPF 15, I covered her face using a damp sponge. This multi-action tinted fluid is simple to use and leaves the skin glowing. With my finger, I tapped CHANEL Limited Edition Camélia de Plumes Highlighting Powder on the tops of her cheekbones and the bridge of her nose. At the temples, hairline, tip of the nose and chin, I used CHANEL Le Blush Crème de Chanel in Destiny to warm up her face and give it some dimension. On her cheeks, I used CHANEL Powder Blush in Jersey with a tap of CHANEL Powder Blush in Caresse on the apples of her smile.
EYES
I wanted to do a smoky eye on Amy, with this dress being so dreamy, but I thought to keep it soft we would use reflective bronze and copper. To blanket her lid, I used a buttercream eyeshadow all over; this just gives me a clean canvas. On the almond of the eye and into the creases, I used the warm bronze color from CHANEL Quadra Eyeshadow in Mystic Eyes. At the lashline, I used CHANEL Le Crayon Yeux Precision Eye Definer in Brun-Teak. I blended CHANEL Quadra Eyeshadow in Tissé Fantaisie, which is a deep copper and perfect for adding some drama. On the lower outer corner of her lashes, I again used CHANEL Le Crayon Yeux Precision Eye Definer in Brun-Teak to deepen the eye. Under her bottom lashes, I took a small but full brush and swept the warm bronze color back and forth to create a very blended, soft undereye. Benefit BADgal Lash helped create smokiness.
LIPS
I wanted Amy's lips and cheeks to be in the same tone. Warm apricot with a splash of melon over it—bright but complementary. So with my lip brush, I applied CHANEL Rouge Coco Shine Hydrating Sheer Lipshine in Liberté. To tighten that line and to hold the lipstick in place, I used CHANEL Aqua Crayon Lip Colour Stick in Cognac. Lastly, I turned to CHANEL Glossimer in Bliss for the perfect pop of shine. This whole look comes together with phenomenal results, exactly what you would expect from a movie star."
What do you think of Amy Adams' Golden Globes 2015 beauty moment and her second win in two years?