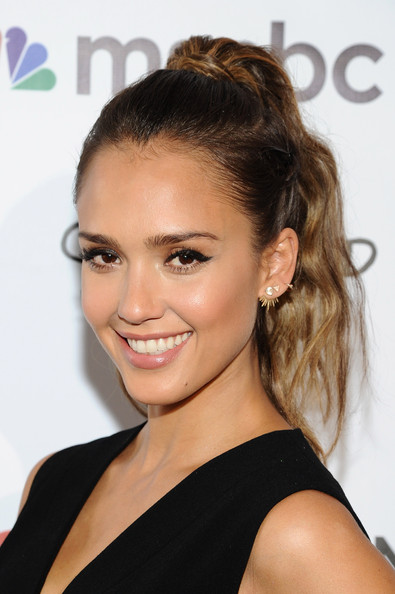 Jessica Alba's look this Saturday is very Ariana Grande, no? Quinn Murphy and celebrity hairstylist Rebekah Forecast worked with Jessica Alba for the 2014 Global Citizen Festival on Saturday, September 27th in New York City.
MAKEUP
Says Quinn, "To complement Jessica's black dress, I focused her look around black eyeliner while keeping the rest of the makeup bronze and warm. It was 80 degrees in Central Park so a sun-kissed coral look was unseasonably appropriate."
"After prepping her skin with moisturizer, I used Chanel Sheer Illuminating Base to create a smooth surface and add lasting power to the makeup. I also applied RMS Beauty "Un" Cover-Up in Shade 44. Next I applied Armani Luminous Silk Foundation in #9 using a damp Beautyblender sponge.
Using the NARS Multiple in Vientiane, I framed her face. I applied the bronze cream on the edges of her face to create dimension – under the cheekbones, temples, and under the jawline.
I applied the same NARS Bronzer to the center of her eyelids and blended upward and out. Next I applied Estee Lauder Black Gel Eyeliner along the top lash line, making the line thicker on the outer edges and giving it a flick for a cat eye effect. I applied Armani Eyes to Kill Black Mascara on the top and bottom lashes.
I used NARS Powder Blush in Deep Throat on the apples of the cheeks. I then used NARS Powder Bronzer in Casino to subtly contour the cheekbones. It's softer than a traditional taupe contour shade.
On her lips I applied a sheer peachy bronze lipstick that was Jessica's own."
HAIR
"My inspiration for Jessica's hair was the music festival itself. Cool rock chic with a little bit of punk – hence the braid, giving the affect of a buzzed side. I also wanted a the high pony to look young and effortless," says hairstylist Rebekah Forecast.
"Beginning with wet hair, I applied a volumizing spray at the roots to help create texture and volume. I blow dried the hair with a diffuser to keep the natural movement in the length and ends, but smoothed out the hairline.
Once hair was dry, I sprayed the whole head with a small amount of dry shampoo to give a second day feel. This also helps to get a good grip on the hair when pulling it into a high ponytail. I used a brow mascara on the hair line to tame any fly aways.
Once the ponytail was secured, i sprayed a bit of thermal spray and used a flat iron to create irregular waves throughout the hair. The spray gave the hair great hold as I knew she was going to be outside all day and touch ups would not be possible."
What do you think of this pony and cat-eye combo?