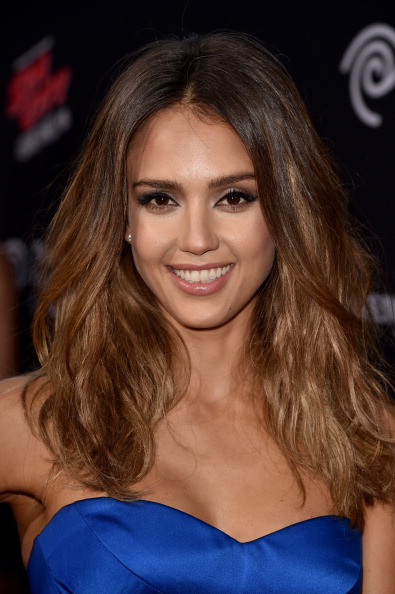 Davy Newkirk worked with Jessica Alba for the premiere of "Sin City: A Dame to Kill For" on Tuesday, August 19th.
Here's a casually chic style to snag, courtesy of Davy Newkirk for Jessica Alba's appearance at the premiere of "Sin City: A Dame To Kill For" on Tuesday, August 19th. Let's not discuss the ending of that title in a preposition, okay? I'm having high blood pressure over it. What's calming down is Jessica's mane, and here's the meaning in its life AND the inspiration. "Jessica's gorgeous, form-fitting, electric blue Zac Posen dress had a classic silhouette, so I thought that glamorous rocker hair would be a great contrast," said Davy. Here's how he got the look.
"I began by prepping her wet hair with Honest Conditioning Mist.  I then sprayed Alterna Bamboo Beach Summer Ocean Waves Tousled Texture Spray throughout the hair and rough dried it, utilizing the natural texture.  I used a large round brush around her face and then created a center part.
Next, I lightly brushed the hair with a Mason Pearson Brush and took a small amount of Alterna Bamboo Form Sculpting Clay and ran it through random pieces, for added texture. I finished off with a few sprays of Alterna Bamboo Anti-Humidity Spray."
What do you think about Jessica Alba's 'do here?