Skin Inc just launched Skin Identity, an online tool that helps you understand your skin and discover the best products to care for it. The digital diagnostic tool asks you a series of questions about your lifestyle and environment to diagnose your skin's condition and prioritize key concerns. You then co-create your own Skin Inc skin serum, My Daily Dose, and a personalized regimen.
I tested out the tool by first seeing a facialist and seeing what she recommended from the line and then taking the online quiz. The online tool was on point and matched exactly what my facialist recommended : my daily dose consists of vitamin c, licorice and pycnogenol.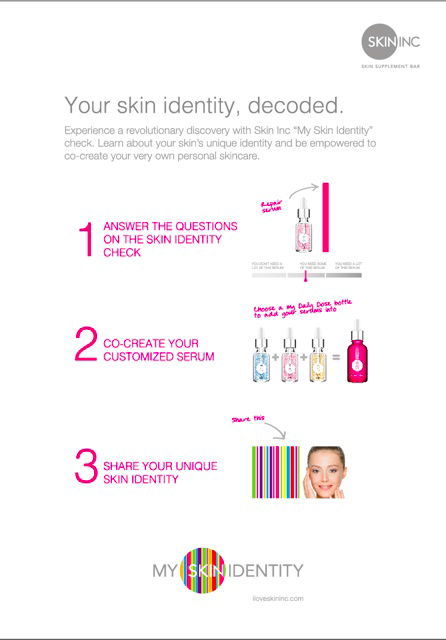 She explained that vitamin c works to regulate oily skin and reduce pore size. Licorice relieves skin and helps revive a dull complexion, while also smoothing and soothing sensitive skin. Lastly, pycnogenol is a super anti-oxidant that repairs skin and reduces the signs of aging skin. I left the facial glowing and watched my skin get clearer and brighter in the coming days, giving me the confidence to start using the Daily Dose nightly.
Take the test here and let me know what your Skin ID is!