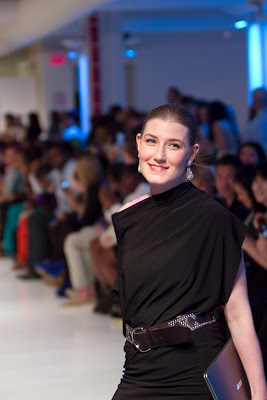 Julia rocking the catwalk!
My gal Julia DiNardo writes Fashion Pulse Daily and is one of the busiest bloggers in the biz. She teaches writing classes at NYU, works full time in marketing, writes her own blog and contributes to other sites like Beauty High and IFB on a regular. She also boasts the most incredible glasses selection in all the land AND is a treasure trove of '90s parlance, frequently dropping words like "psych" and "rad" utterly naturally, as if we were toasting to Zomething Different with our Zimas at a party in 1997, instead of clinking champagne at a launch for mascara in 2013. Julia is beyond savvy about life, beauty and fashion, so I hit her up to share her Five Rules For Life. Here they are, in Julia's words.

1. Embrace (or create) a meaningful, signature style. 
Despite the trends and "it" colors, do you have something that you absolutely love and if you could, wear every day? If so, do it! If not, think about what style/silhouettes/colors look incredible on you, and start wearing them more regularly, or investing in pieces that fall into that category.  Or perhaps make your go-to an item that has some sentimentality attached to it, like a piece of jewelry (for me, it's a ring). It gives some individuality, significance, and confidence to my every day look, and now I feel naked without it! 
2.  Don't underestimate the power of a good green juice.
At first, I thought they looked kinda gross, but when I found the right combination of ingredients (parsnip, parsley, green apple, celery, grapes, spinach, lemon, lots of ice, and a TON ginger), I was hooked. When I'm feeling super exhausted, hung over, or the beginnings of a cold coming on, I green juice it up and feel instantly amazing. I usually drink one in the morning, and it's (almost) better than coffee, while delivering a great dose of veggie which seems to always be lacking from mainly carb-heavy breakfast food options. Just try not to think about it looking like a Gremlin got into a blender. 
3. There is a PERFECT shade of red lipstick out there for you – I promise! 
Have you ever seen an older lady with a vibrant shade of deeply pigmented red lipstick, perfectly applied, and thought to yourself "I want to be like that when I'm 80?" I sure have, and it just goes to show you that finding the right shade of red can work wonders for your look- at any age (look at Diana Vreeland)!  Go to Sephora, or a makeup counter at your favorite department store, and try and try and try different shades until you find the perfect one for you- I know you will have a aha! moment when you find it! 
4. Remember the power of a handwritten note.
It's so easy to fire off an email or thank-you text for something kind that someone did for you or gave you, but taking an extra step to track down some nice stationary, scrawl a personal message (that was in no way copy and pasted from somewhere else), spend 45 cents, and find the nearest mailbox? Now that says a little extra that you genuinely care.  Especially in this day and age, taking an extra step to send something via snail mail dedicates a level of consideration and intimacy that email just can't express. Every time I'm in a T.J.Maxx, I buy a box of cards so that I always have some on hand, in order to easily create a more meaningful and memorable moment for the receiver. 
5. Find Your Own "Tranquility Zone."
I started using this term while living in an incredibly miniscule NYC apartment, and it refers to a place or time carved out that is truly dedicated solely to you. I sometimes get so crazed with keeping up with emails, posts, friends, chores around the apartment, and the constant bing of my phone from social media-related interactions. The "tranquility zone" can literally be locking yourself in the bathroom for a 20-minute soak, spritzing lavender on your pillows and taking a nap, or taking a quick walk while listening to your favorite jams. However you define it, I think that making some interruption-free time to just calm down, relax, and clear your mind is essential to your sanity and overall well-being, refreshing and rejuvenating you so that you can deal with your work with renewed zest, or you know, being crushed up against five other strangers on the 6 train at rush hour. 
Thanks, Julia! Stay tuned for more Five Rules. 
Like this post? Don't miss another one!
Subscribe
via my RSS feed.