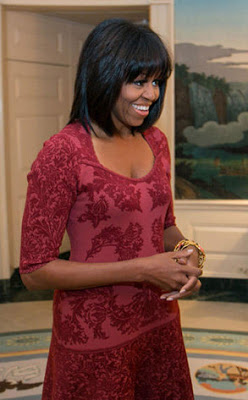 After a week in Brazil, two transcontinental red-eye flights and a packed 8am to midnight agendas, I wanted to take today pretty easy blogging-wise. And then I found out that Michelle Obama has new bangs in time for the inauguration. And I love them. I think they frame her face perfectly and soften her dramatic eyebrows (which, for the record, I like, but many people think are too much). 


Says L'Oréal Paris Consulting Hair Stylist Johnny Lavoy, "The First Lady is no stranger to bangs. She's been wearing versions of a soft side-swept bangs for some time. What I love about Mrs. Obama is she that she's not afraid of trying a new hairstyle. Her new bold bangs are both chic and modern, just like our First Lady."
What do you think of Michelle Obama's bangs? 

Like this post? Don't miss another one! Subscribe via my RSS feed.