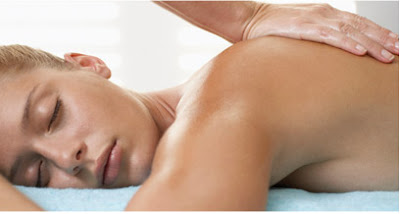 This week, I jaunted on over to Bliss49 (one of my favorite spas in the city) to experience their new Happy Wrap, exclusively for those undergoing their epic JouleBody Happy Cleanse, which I reviewed a couple weeks ago.
Spa tech Joy treated me to a relaxing wrap infused with ginger, known to reduce inflammation and muscle pain while boosting circulation. I've been plagued with seriously unsexy lower-back pain all week, so this treatment could not have been better timed. Then, she wrapped me up like a burrito in foil (seriously, if you've ever wondered how sushi feels, this is what I imagine it would be like) and let me absorb all of the warm detoxifying properties of the ginger mix while she gave me a head massage. Then, we unwrapped the layers and rinsed me off with a Vichy rinse (a lazy girl's dream–showering while laying DOWN on a bed) and dried me off before giving me a moisturizing rubdown with the brand's signature Blood Orange + White Pepper Body Butter. I left with significantly reduced pain and felt invigorated. Definitely a detox must. 

In short, I experienced ALL of the phenomena of Rob Base & DJ E-Z Rock's famous '80s ditty, Joy And Pain. There was Joy, who performed the service. I arrived with my own back pain. There was sunshine in the form of heat conducted via the foil wrap and the natural warming properties of ginger. And then (what else, what else?) rain, in the form of the Vichy rinse. I mean, when something echoes the lyrics exactly of an '80s hip-hop tune, the coincidence simply cannot be ignored. Am I right? 
Be a rap/wrap star and book your Happy Wrap ($75) at
blissworld.com
. 
Disclosure: Service provided gratis for editorial consideration. 
Like this post? Don't miss another one!
Subscribe
via my RSS feed.