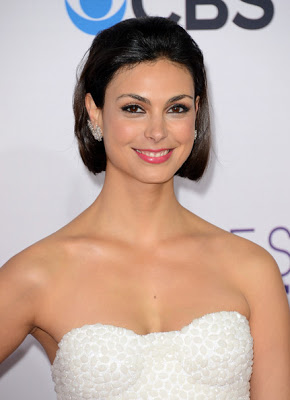 Hairstylist Adam Campbell was inspired by epic editrix Diana Vreeland when creating this beautiful hairstyle for Morena Baccarin at the People's choice Awards 2013. Here's how to get the look, straight from Adam.

 "I first applied Kerastase Elixir Kultime to the ends of damp hair. I then sprayed Phyto Volume Actif at her roots. Then i blow dried her hair with a medium size round brush to smooth her hair and create volume at her roots. Then I flat ironed one inch sections of the ends of her hair until smooth. I did a light tease on her crown area and smoothed her hair with a mason Pearson brush and tucked the hair behind her ears. Finished with a generous spray of Elnett hairspray."
I think Morena Baccarin is one of the most criminally beautiful women on earth. I adore her in "Homeland." What say you about her hairstyle at The People's Choice Awards 2013?

Like this post? Don't miss another one! Subscribe via my RSS feed.