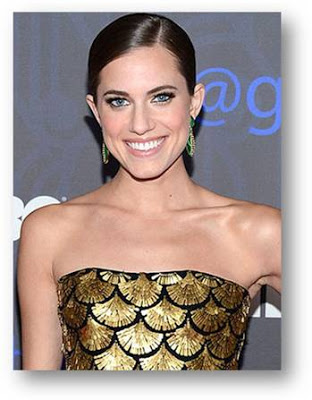 Allison Williams looked STUNNING in Cargo Cosmetics at the "GIRLS" season 2 premiere, thanks to Celebrity Makeup Artist Julie Harris, who created her look exclusively with CARGO Cosmetics. Here's how to recreate the look with tips from Julie.

Julie first applied a thin layer of the CARGO Liquid Foundation, which is a great oil-free foundation, in shade F-20 to Allison's flawless skin in order to add a little glow for the red carpet.
She then applied a touch of the CARGO OneBaseTM to highlight and brighten under the eyes.
Julie wanted to bring out the blue in Allison's eyes so she applied a gold shimmer shadow all over the lid and a slightly deeper gold shade in the crease and right below the lower lash line using the  CARGO Color Palette in Baja.
She then applied the CARGO TexasLiner Liquid Liner in Black along the top and bottom lashes and the CARGO High Pigment Pencil in the water line to emphasize her beautiful lashes before applying two coats of mascara with the CARGO TexasLash Mascara in Black for maximum volume and impact.
Using the CARGO Bronzer in Medium, Julie focused on the high points of Allison's face (the forehead, the temples, cheekbones, chin and down the sides of her neck) to give skin warmth.
Julie applied CARGO Blush in Cannes to the apples of her cheeks for a fresh glow along with the CARGO ColorStick in Champagne on the brow bones and cheekbones to highlight while also adding a light shimmer.
She also lightly dusted the CARGO blu_ray™ Blush/Highlighter in Pink Shimmer to the top of cheeks and up to the temples to create a dewy effect to go with the shimmery eye.
Lastly, Julie kept Allison's lips soft with CARGO Lip Gloss in Fresno, a pretty pink/nude gloss.
What do you think of Allison Williams' makeup at the "Girls" season 2 premiere? I think she looks absolutely lovely. 


Like this post? Don't miss another one! Subscribe via my RSS feed.