If I were going to a prom, this would SO be my 'do of choice.
Finest Hour Week continues!
Whether you're going for a long, tumbling mane or a structured updo, you need to be prepared with glossy, gorgeous HAIR. Obviously. Here, the best hair products and tools for prom-worthy locks. Don't forget to check out my prom skin recommendations here!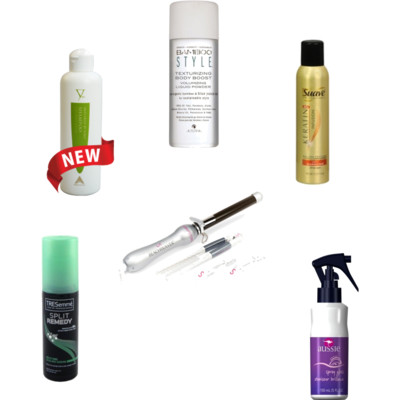 Sarah Potempa Beach Waver ($189 at qvc.com) Save cash on a salon style and do it your damn self with Sarah Potempa's new motorized curling iron. Read all about it and get the deets via video in my review here.

Yuko Shampoo & Conditioner ($18 each at yuko-usa.com) will get your strands smooth like your prom date's dance moves. Hopefully. This cleansing and conditioning combo gives you mirrorlike shine and super sleekness that people literally will not be able to stop talking about. The one thing to keep in mind is that you may need to wash daily with this one as it made my hair a tad greasier after 24 hours–but so worth the gleamy goodness for special occasions.
Suave Keratin Dry Shampoo ($4 at walgreens.com) For updos, you always need to go into it with dirty hair. And that freaks some people out, myself included. I don't feel I'm living my best follicular life with 2nd-day hair and this makes it smell and feel a lot more like 1st-day. It yields none of that vile "dry shampoo" feel, while assassinating greasiness AND it softens with keratin. Win.

Aussie Spray Gloss ($8 at amazon.com) If you're going for a down hair concept, adding a spritz or two of this will help your hair shine like the top of the CHRYSLER Building. It also smells incredible AND is $8. Score.




TRESemme Split Remedy Serum ($7 at amazon.com) The primal scenario: Your hair is in rough shape, split-endswise–but obviously, you need all your length for your tumbling prom hairstyle. Life is HARD, I KNOW. How to camouflage your badly-in-need-of-a-trim scraggly ends? With this SERUM. Rub a little between your palms, apply from mid-shaft down to damp hair and blow dry. It'll mend your ends in a flash until you do what you know you have to do. And you and I both know you have to do it–but it'll wait till after prom.

Alterna Bamboo Style Texturizing Body Boost Volumzing Liquid Powder ($22 at amazon.com) Clearly, you need ample strands for the Brenda Walsh style evening you plan on having post-prom with your very own Dylan McKay. Alterna's new body boosting powder is straight-up magical–it gives your mane major density in seconds. Put some in your hand, separate the top section of hair on the crown and apply to the roots, then smooth the top section back over to cover up your secret huge hair handiwork. The bigger the hair, the closer to God, as they say.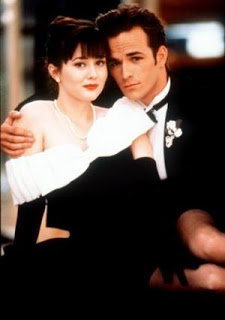 What are your favorite prom hairstyles?
Like this post? Don't miss another one! Subscribe via my RSS feed.