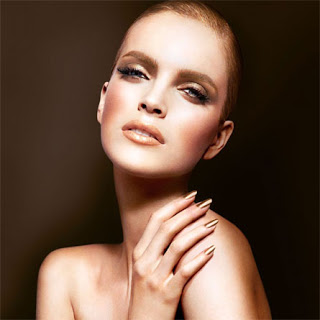 Fictionary is a column showcasing beauty-related words that don't exist, but should.
Tom Ford Nail Lacquers in Burnt Topaz, Gold Haze, Silver Smoke and Burnished Rouge
Tom Ford Cream Color for Eyes and Lip Lacquer, in their natural habitats
In breaking beauty news that will shock exactly not one person,
Tom Ford Beauty
's limited edition
Spring 2012 Collection
is
Helen of Troy
levels of gorgeous. A melange of metallics, these molten-toned hues inspired by the beauty of a radiant, bronzed face is going to give you a serious case of the wants–to be a
Buillionaire
, and
not of the chicken stock variety
. To me, it recalls that pivotal, colossal moment of cinematic genius, the
Queen of the Night
scene in
"The Bodyguard."
Observe: (and for more info and swatches on the Tom Ford Beauty Spring 2012 Collection, read on…
Tom's burnished shimmering metals gleam like Whitney's golden headdress, proving once again that it's he who has [and always has] the stuff that you want AND the thing that you need. Says Tom, "I have always loved the look of tanned, glowing skin, whether it is achieved with bronzing powder or with a natural tan." In other words, in the parlance of the fictional Rachel Marron, he just wants you to get loose and [he's] turn[ed] it up for you.
TF Cream Color For Eyes swatches in Spice, Platinum, Illicit and Guilt–no flash
TF Cream Color For Eyes swatches in Spice, Platinum, Illicit and Guilt–with flash
The collection includes the Tom Ford Cream Color For Eyes, which is an ultra smooth, non-creasing cream shadow with a long-wearing finish. Highly reflective, it boasts incredible color payoff and a divine texture you'd expect of the brand. It comes in four shades: Platinum, Guilt (a gold), Illicit (burnished red) and Spice. There are also four corresponding Nail Lacquers in Silver Smoke, Gold Haze, Burnished Rouge and Burnt Topaz, each formulated with mirror pearls to yield a major molten mirror look. You'll look so smoldering, even Frank Farmer won't be able to protect you. Lastly, there's a new shade of Tom Ford Lip Lacquer called Gold Dust, which effectively answers the Q, "What will I pack for my resort vaca?" It is made of gold-particle pearls suspended in a clear and lustrous lip lacquer that hydrates while it takes your lips to the next level. You could use it on lids, as well. But don't forget to spill a little out in honor of dearly departed Whitney before applying out of RESPECT.
TF Gold Lip Lacquer swatch

What can I say? I'm just that way. 
The Tom Ford Beauty Spring 2012 collection will be available in April at Saks, Bergdorf Goodman and Neiman Marcus. A few of the products are available for pre-order. What do you think? More than enough to make you drop to your knees? 
Like this post? Don't miss another one! Subscribe via my RSS feed.