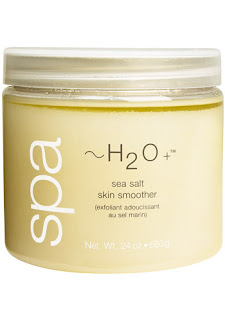 I've long been obsessed with SHINY SHOULDERS. Glossy, even, if you will. It seems not everyone can achieve this. Some unfortunate folk are simply dealt… matte shoulders. And that's SAD! My obsesh started with Kim Cattrall's famously gleamy shoulders in Mannequin ("Where do they hide all the musicians?"). And I had yet to see such shimmery shoulder inspiration… until now. Behold Beyonce's reflective set in her new "Best Thing I Never Had" video:

To get the best skin you'll ever have (and make matte skin the best thing you'll NEVER have), start with a handful of H2O Plus Sea Salt Smoother ($26) on your dry skin in-shower, before turning the water on. Its European sea salt mixture boasts an oil base, so it moisturizes while it sloughs using large grains to rid you of dead, dulling SKIN CELLS (EW!). In the words of B, "I'm so through with THAT." Just be sure to always use it pre-razor, as salt can irritate freshly-shaved skin more than its sugar counterpart. Use twice a week for gorgeously polished skin and it will NOT "suck to be your right now."
H2O Plus Sea Salt Smoother is available at h2oplus.com.
Like this post? Don't miss another one! Subscribe via my RSS feed.