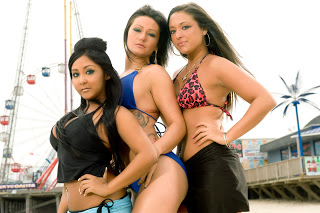 Gals, I was just tipped off to this little gem:
The Tropicana Casino and Resort in Atlantic City is now offering a special package for Jersey Shore fans to come and party just like Snooki, JWoWW, The Situation and DJ Pauly D. Remember last season when the housemates came to AC? And JWoWW punched The Situation in the face?
The Jersey Shore Experience package features overnight accommodations, dinner at gourmet Italian restaurant Il Verdi, VIP admission to all the clubs and a gift certificate to the salon, where their guidette-specialized stylist can give you the POOF! Make sure to time-manage for GTL as gym, tanning and laundy facilities will be available 24/7. I KNOW! Pour yourself a glass a Ron-ron juice because you won't believe the price: Just $878 per night!

BUT! If you want to be a VSG (that's Very Special Guido) for $4,230 you get to stay in the same suite the Jersey Shore crowd stayed in. 
So the point is: I'm pretty sure how I'M spending my impending 30th birthday in June. Ironically enough? I ACTUALLY spent my 21st at that exact hotel. 

Now stop stalking my entire life.


Source: Perez Hilton
Like this post? Don't miss another one!
Subscribe
via my RSS feed.