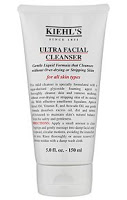 Dolls, when I had the Death Flu, my skin became extremely dry. My nose was the Sahara. It wasn't delightful, to say the least. On the whole though, I have normal-to-oily/combo skin (I think the fact that my skin has acted as every type of skin on the planet makes me a good candidate for a face wash tester, n'est-ce pas?).
Luckily I had something on hand that was PERFECT. Kiehl's Ultra Facial Cleanser is just moisturizing enough to balance my complexion, but its gentle formula won't overdo it in the moisture department. The fact that it's designed for all skin types says it all. This mild cleanser is formulated with a sugar-derived glycoside foaming agent to thoroughly cleanse skin and remove makeup, without disrupting skin's natural oils. A quick Chem 101 lesson: glycosides are certain molecules in which a sugar part is bound to some other part. It also contains Apricot Kernel Oil, Vitamin E, and Avocado Oil and is PH-balanced. $17.50 on kiehls.com.
Photo credit: kiehls.com
Have a minute?
Take the BBJ week-long feature poll.
Take the BBJ demographics poll.
Take the BBJ LOST coverage poll.
src="http://pagead2.googlesyndication.com/pagead/show_ads.js">