Me, in my office at work, taking a break to pose with my new red Prescriptives Custom Blend Gloss. I look more like a koala than usual in this pic, but as there is no other gloss like it on the planet, I had to show you what it looks like on!
Yesterday, I went back and forth to Bryant Park 3 times in between packing and moving boxes! It was quite a day to say the least. One of my trips included a stop at the Bryant Park Hotel to visit the Spanx and Prescriptives suite where I learned all about the latest developments in Spanx (get excited gals, good stuff is to come!) and then got a custom blend lip gloss just for me. On my way into the elevator, I spotted my friends Julia and Erika who'd already gotten their own custom glosses and looked uber-glam!
I'd asked for a clear red gloss (like I don't have 18 of those, I KNOW) but Drita, the makeup artist at the Prescriptives counter at the flagship Bloomingdales store in New York, is a talented DARLING and whipped up something a little less clear in a muted light red that I absolutely ADORE. I've shown everyone at work. My mother is planning a trip in from Philadelphia to have Drita mix her up her own gloss. The gloss comes in a large test-tubelike container (I feel like I'm doing a lab report when I use it!) with a large, clear, squeeze tipped applicator. I love a red gloss because I can't really wear bold lip colors without shine. I'd love to rock a matte red lip, but every time I try… I unwittingly channel Juno, as in "Juno, [your] caseworker" from Beetlejuice? Let me refresh your memory: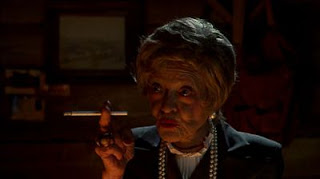 It's not that kind of party here at BBJ.
I also had the opportunity to meet Libbie, who does PR for Prescriptives, and she's an absolute doll. We dished about Fashion Week, eyebrows (hers are divine), and moving. Speaking of eyebrows, Drita used Prescriptives Groom Stick, a self-sharpening pencil that matched my brows perfectly. I left with my custom gloss in-hand and a fantastic gift bag from Spanx with a pair of their socks and a pair of their High Waisted Tights (how did they know I was plum out of tights? Moving/working/FW reporting has left NO time for laundry!) in black and I'm rocking the hell out of them today. I'm much impressed dolls – I was hesitant to put on tights that literally came up to the bust. I thought I'd feel claustrophobic, but these are actually comfortable and keep me streamlined and slim in my pencil skirt. Love, love, love. I had already had a pair of their Reversible Tight End Tights, which I literally wore to death. They suffered a snag from my knee high boots and I NEED to replace them stat. Black and brown tights at once, can you even? I may even need to hold a memorial service for them. Have a delightful Wednesday, all!

My very own custom gloss. It comes with its own suede bag!
Photo credit: Beauty Blogging Junkie and imaginarycinema.com