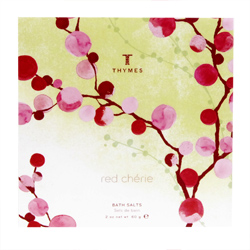 I was just introduced to this brand very recently and already I am in LURVE. As my last act as a non-stressed individual with a moment to herself (starting tomorrow I have fashion week events, shows, a LOST premiere to take in and am simultaneously packing and moving to a new apartment over the course of the next 9 days straight), I indulged in a bath using Thymes Red Cherie Bath Salts. I emerged 20 minutes later with silken fragrant skin. Ingredients include sparkling pomegranate, ripe red cherries, passion flower and jasmine; with a twist of Asian lychee and a tease of fruity musk. Sea salts soften and soothe, vitamin E moisturizes, and cherry & passion flower extracts calm and protect. $6 per envelope.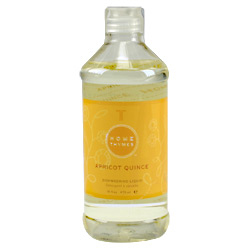 I also had the opportunity to try out Thymes' household products and the Fabulista is MUCH impressed. The Apricot Quince Dishwashing Liquid $9 smells like PIE and cleans dishes with minimal scrubbing.


I've been washing dishes that aren't even dirty, just so I can enjoy the fragrance. Also phenom: Mandarin Coriander All-Purpose Spray $9. This Windex alternative smells briskly fresh and leaves your counters sparkling.
I've never been this excited to do chores, trust.