A tip: don't ever dismiss a product just because it's geared to a different market segment. I'm no stranger to products designed for African American hair (although I have to say that Queen Helene did not work for me). For anyone with dry, curly and/or color-treated hair that's damaged, these products are a DREAM. Two current faves of mine are Carol's Daughter Black Vanilla Leave-In Conditioner and Mizani Spradiance High Gloss Serum.


Carol's Daughter Black Vanilla Leave-In Conditioner
I've been dying to try this out as a) I have hair that is drier than the Negev in August and b) I am, in fact, Carol's daughter. My mom's name is Carol. Sometimes I refer to her as Car (pronounced like a short version of Carol, not like an automobile). This brand was founded in a kitchen in Brooklyn, New York, and creator Lisa Price's homemade concoctions have since become staples on the shelves of celebrity bathrooms. For that reason, many of Lisa's creations are scented with delish food fragrances, e.g. Black Vanilla. Normally a shunner of food-scented hair products, these actually appeal to me. My hair is calmed and frizz is noticeably reduced. I love to spritz away on my hair from my ears down when I'm having a curly moment before applying gel mixed with … Mizani Spradiance. Also available in Tui and Khoret Amen (all three scents are pictured above).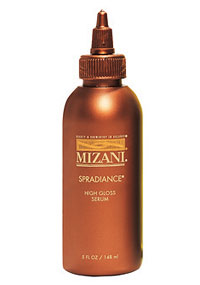 Mizani Spradiance High Gloss Serum
Perfect on both curly and straight hair. Its gentle alcohol-free formula perfect for rebellious hair. This lightweight, long-lasting and lustrous high gloss serum seals and smoothes the cuticle without greasy build-up. Fun fact: Mizani is under the L'Oreal Professional Products Division. Another fun fact: in Swahili, the word "MIZANI" means balance. Don't you love learning something new?