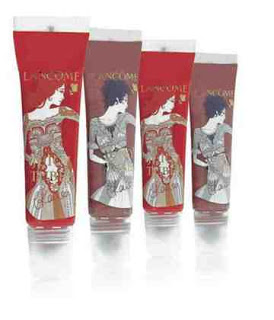 Want to get your hands on Christopher Kane Juicy Tubes before they hit the counter in mid-March?
Want to experience what it's like to be a Fashion Week model?
Lancôme invites you to get catwalk ready with Fashion Week and Celebrity Makeup Artist Extraordinaire Daniel Martin, Lancôme Spokesmodel Selena Breed, author of the acclaimed book "Violet on the Runway" Melissa Walker and the Lancôme Backstage Makeup Team. As a fan of "Violet on the Runway," I am dying to read about Violet's experiences in the second installment of the series!
WHEN: Friday, February 1, 2008
TIME: 5:30 p.m. to 7:30 p.m.
WHERE: Lancôme | The Boutique | 1200 Morris Turnpike Short Hills, NJ 07078
Gift Bags, Mocktails and Cupcakes!
Enter to win a luxurious prize!
RSVP: cschramke[AT]lancome-usa.com
(Please include full name, phone number and that you are
RSVPing for the New Jersey event)
Be the first to…
Get your hands on limited edition Juicy Tubes created by hot London Fashion Designer Christopher Kane.
Read Melissa Walker's newest book "Violet by Design."
Get the hottest beauty looks for spring, straight from the artists who worked backstage.
Receive a complimentary copy of "Violet by Design" and an official Lancôme Backstage t-shirt with any purchase of a limited edition Christopher Kane Juicy Tubes and a Lancôme Mascara.
Who doesn't love a mocktail?
Photo credit: melissacwalker.com