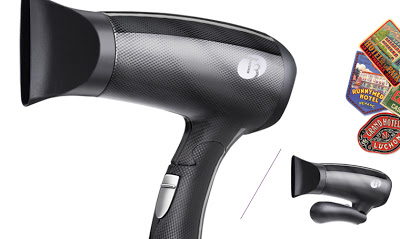 As anyone who has traveled anywhere knows, hotel hair dryers are NOT created equal. In the name of attempting a little low maintenanceness, I've been leaving my blowdryer at home and more than 50% of the time… I'm sorry I did. The hairstyle results range from cotton ball to mediocre at best. Story time: I traveled to Brazil earlier this year for a shoe trade show where I was confronted with one of those typical wall-mounted Euro dryers in my Sao Paolo hotel room. 



This is it. I instagrammed it and noted that this is the reason
Brazilians invented the keratin treatments. It was the very last class, ironically. 
After using this horrendous dryer, my hair could only be described as Friends' Monica in Hawaii hair. Huge, unruly, beyond frizzy. I blew out my favorite curling iron (it wasn't wired for use abroad, alas) as it was necessary to TRY and tame the situation. The curling iron ameliorated the situation moderately. But when Aly and I went to a pharmacy to check out the local beauty wares, the staff who spoke zero English tried in vain to figure out what we were looking for and when we were unable to communicate that we were simply checking out the offerings, they brought over tub after tub of deep conditioning masks. #sigh

You deserve to have your best hair no matter where you are. But lugging your own dryer takes up valuable suitcase real estate, not to mention weighs it down. What to do? Enter the T3 Featherweight Journey Travel Hair Dryer. With a folding handle and world voltage, its light, fits easily into tiny spaces and won't blow out on you in your time of follicular need. It boasts your regularly scheduled T3 technology like infrared heat and ions via its tourmaline construction. It dries hair quickly, just like its full-size counterpart and comes with its own travel tote for easy portability. 
The T3 Featherweight Journey Travel Hair Dryer retails for $130 at nordstrom.com.  Tell me: Do you travel with your dryer? 
Like this post? Don't miss another one! Subscribe via my RSS feed.