Dolls, yesterday morning I bounded out of bed at the ripe hour of 6:30 to catch a car to New Jersey for the very best reason: To attend a sneak preview of the new Last Call by Neiman Marcus store in Bergen County. As loyal readers know, this gal loves a bargain. In fact, an alarming majority of my wardrobe is culled from various (not just ANY) TJ Maxx, Loehmann's and outlets like Last Call.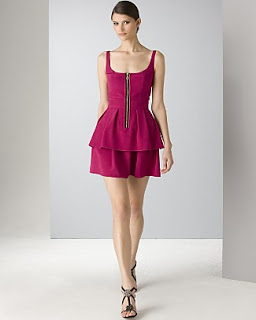 I got a case of the vapours when I first looked at these Charles Jourdan Halter Platform Wedge shoes. The cutout in the back of the wedge. The comfortable platform situation. The red interior that reminded me simultaneously of the red room in Twin Peaks and Christian Louboutins. The gold detail. Even the suede slays me, and I typically shun a suede shoe because I don't like to have to rely on Pat Kiernan's weather forecasts to guarantee the longevity of my shoe confections. Naturally, they're currently in my posesh.
Also! I became seriously involved with designer Jay Godfrey's marvelous array of ruffled (and also non-ruffled) dresses. I scored a Jay Godfrey "Axel" Silk Tiered Dress (shown at right in fuschia, but mine is a deeper Crayola 8-pack purple) that was 30% off of $195. VERY reasonable for a dress of this caliber of quality and femininity. The thick silk is massively flattering, as are the medium straps and nipped-in waistline. I anticipate rocking this to many a holiday party. What will you wear to yours this year? Share (Horowitz) in the comments!
Check out all of Last Call by Neiman Marcus' fabulous wares at lastcall.com.
Disclaimer: A $100 gift certificate was provided to guests of the preview. The other $230 I spent on my treasures, however, was my own.
Like this post? Don't miss another one! Subscribe via my RSS feed.