Thomas Edison famously said that genius is 1% inspiration and 99% perspiration. I've come to realize that genius in makeup is more evenly balanced–50% product and 50% application. Obtaining good products is a must, of course, but knowing how, when and where to apply them is half the battle.

A further caveat regarding the first task:  Make sure that the product is right for you. Don't rely on the "experts."  As with Edison, only personal trial and error will work.  For instance, I recently decided to buy a foundation from one of my favorite cosmetic brands.  I wasn't sure which shade was right for my pale skin–should I go for a match or should I go darker?  As an experiment, I sought advice from three of their representatives. Each one chose a radically different color for me!  So much for expertise.  I wound up making my own choice, based on what looked best to my own eye.

On another occasion, years ago, I had a "makeover" at a department store counter.  I happen to have very dry skin and mentioned it to the cosmetician.  Nevertheless, with brisk authority, she proceeded to lavish my face with powder.  In addition, she decided that I needed brown, not my customary black mascara and a darkish, neutral lipstick that didn't look promising.  At the "ta-da" moment, I peered into the mirror, aghast.  I found that my face had faded away into nothingness.  In its stead, my wrinkles (including ones I barely knew existed) were sharply delineated in full, HD-like glory.  Instantly I had aged 10 years.
My takeaway from that disappointment?  A lesson learned.  Never again would I let powder touch my face.  Instead, after moisturizing, I apply concealer where I need it and a little foundation, blending, of course, discreetly, with fingertips and a tiny brush for the corners of the eyes.
And now let us praise creme blush.  In my youth I was devoted to a product by Du Barry, a brand that bit the dust long ago.  It had a silky yet rich formulation and was dispensed, via a tube, in the most exquisite shade of true pink. This color lives in my memory–an ideal hue that has the power for me of one of Plato's archetypes.  I continually try to replicate it, never quite succeeding.
Later, in this domain, powder reigned supreme and it wasn't until relatively recently that good creme blush once again became widely available.  Reason to rejoice, indeed. My current favorites:  Mally Get Cheeky dewy blush in a shade called Fely's Flush ($25).  A quality product in quality packaging, it comes in a sleek mirrored compact with its own brush, both tucked into a soft, frosted pink leatherette case.  Although nothing like the Du Barry in hue or texture, it is delightful in its own right to apply and is reliably flattering  in its effect.
I also like a product from Redpoint, a California firm, called Airbrush Effects Blushwhip in Glow, a shade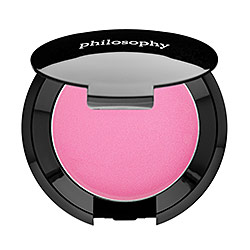 in the coral spectrum.  True to its name, it does have a whipped, soufflé-like texture and works well when I pat, rather than rub it on.  Summery.
Finally, I frequently reach for Philosophy's smooth, black mirrored compact containing the supernatural lit from within healthy crème blush ($23) in a cool, pearly-pink tint called look on the bright side. Perfect for spring into summer.
Yes, it's true that my makeup may not have the finish and staying power that powder provides, but hey, everything in life is a trade-off.  At least I don't look 110.  
Like this post? Don't miss another one!
Subscribe
via my RSS feed.