Let me tell you something. I really need to start doing my Google image research before attending hair events. This is the second time I've been caught unaware that a stylist I'm meeting is dead sexy–and straight (the first being Teddy Charles).  
Mark Garrison is a North Carolina native who looks like a hybrid of a younger Hugh Grant and Pierce Brosnan. 'Kay? I wish I'd worn my PROM DRESS to this event. My friend Carrie came with me to the salon, as I was able to bring a guest. A new mother who hadn't pampered herself in months, she was the perfect companion for this morning of hair appreciation. Find out all about my new 'do and enter to win either a free cut or color yourself! Details at the end of the post.
 

Mark has tended to the tumbling tresses of such celebs as Scarlett Johansson, Sandra Bullock, Marisa Tomei and Sarah McLaughlin.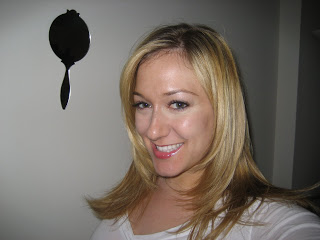 I enjoyed a cut, flash process on my roots (a Wella color product) and gloss (also Wella) and left looking 81% more fly than I had when I walked in. I measured.
We started with the flash color service, which was just a suble single process painted just on the roots to lessen the appearance of the demarcation of color between my growing out butter-blonde highlights and virgin dirty-blonde roots. It's great for those times you don't want to spring for an entire head of highlights, but want to extend the ones you have by another month or so.
Mark then cut some slightly shorter layers which served to frame my face, so it's "like I'm constantly Voguing without my hands," in the words of Jim. Mark's cutting technique is very precise; he cuts the outline of the hair while you're standing and will have you turn your head so that your shoulder doesn't get in the way when he does so. Check my blended roots and new 'do, above! What do we think?
Lastly, we hugged Mark and thanked him for the fabulous hair treatments before leaving. Once we were outside, Carrie, a married new mother confessed, "I wish that hug turned into a slow dance."
Me, too, Carrie. Me, too.
Enter to win your own free cut or color service at Mark Garrison! 
Simply follow me on Twitter and RT the following: To enter, simply follow me on Twitter (my handle is @glambr) and RT the following: Follow me & RT to enter to win a free cut or color at Mark Garrison! http://bit.ly/9GLxQC. The giveaway will end on today, May 11 at 5pm ET. This giveaway is only open to US residents.  Good luck!
Mark Garrison Salon is located at 108 East 60th Street in NYC.
Disclosure: My hair services were provided free of charge for editorial consideration
Like this post? Don't miss another one!
Subscribe
via my RSS feed.