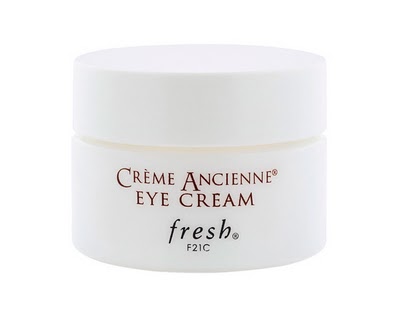 Don a robe and a rope belt, because monks are so hot right now.
Fresh, one of my favorite beauty brands, has introduced a new eye cream into their Crème Ancienne franchise, inspired by the WORLD'S first cream, created in the 2nd century to heal gladiators' wounds. Fresh co-founders Lev Glazman and Alina Roytberg commissioned a monastery in in the Czech Republic to make their exclusive cream by HAND. Last year, ELLE's Holly Millea wrote an excellent article about her adventures visiting the monastery to meet the monks who make this legendary skin panacea. Check it out here to learn more about the process.
But let's get back to biz: The new Fresh Crème Ancienne Eye Cream ($95), lovies, is TO DIE. It's my new favorite and I'm pretty loyal to eye creams. It's super-nourishing. I put it on in the morning at 8am and by 11pm, it's still going strong. It mitigates dark circles and does as much for crows feet as you possibly can without involving yourself with a little something that begins with an "I" and ends with a "njectable."
This weekend, Jim and I had planned a day of shopping, all centered around the Monastery Chic theme, as I'd convinced him he needed to invest in Crème Ancienne Eye Cream on the DOUBLE. He tried one swipe and declared monasteries "the new Studio 54." I retorted that asceticism is the new black. The eye cream yields a subtle sheen not unlike my longtime fave Dr. Haushka's Eye Contour Day Cream. It's also just as splendid on lips as it is on eyes. A quick swipe will keep them hydrated for hours. Some of its ingredients include meadowfoam seed oil, beeswax (it IS some of your…) and jojoba seed oil. For the eye cream, they've added cold sugar-apple seed and rosemary leaf extract. The best part is that every single jar is pretty much limited-edition as exemplary production standards result in limited quantities remaining. So, get involved immed.
Try it and regardless of whether or not you're a pious gal (or guy)… you'll believe in miracles. You sexy thing.
Fresh Crème Ancienne Eye Cream is available at fresh.com.
Like this post? Don't miss another one!
Subscribe
via my RSS feed.