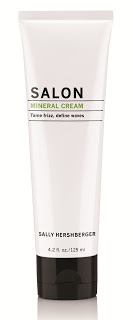 Supreme strand supremacy Sally Hershberger has shared some fantastic tricks for extending that blow-out during the holidays when late nights of 'nog will leave you wanting to sleep that extra hour.  In the sage words of Sally, here's how to master a professional looking blow-out at home and how to get one to last:
Achieving a professional looking blow-out at home is much easier than most people think. Here are 3 easy steps:

1. First, apply a few squirts of a protective blow-out gel to towel-dried hair. My SALON by Sally Hershberger Luxe Layers is a great product that not only protects hair from heat but it will help you to achieve a salon-perfect long-lasting blow out because of the innovative formula. Rub your hands together and work the gel throughout hair, starting at the ends and moving upwards.
2. After your hair is fully prepped, begin the blow out. You will want to use a big round brush and dry hair in large sections, starting from the nape of the neck working your way up to really build the style. When your hair is fully dry, turn the blow dryer on cool and run it over hair–this is a great trick to lock in moisture and shine.
3. Finally, use a volumizing hairspray such as my new SALON by Sally Hershberger Body Fix  to set the look and provide hold that still has insane movement. Body Fix builds instant body as you work your hands through your hair and makes for a long-lasting, silky smooth style. Check out HSN on November 22nd and 23rd where I will show you more great tricks for using this product!
Like this post? Don't miss another one! Subscribe via my RSS feed.