Hair stylist Odile Gilbert for Aveda created a look that can be described as Eva Peron meets Juliet Lewis; giving the 40s a more a modern feel and shape.
How to recreate the look:
· Step 1: Create a deep side part and section hair off behind the ear. Spray with Air Control Hair Spray and brush through to smooth.
· Step 2: Create a high pony tail right above the right ear and secure in place with an elastic.
· Step 3: Divide pony in half and roll each section around a rat (small hair sponge), creating a cylinder-like shape. Hold in place with pins and spray with Air Control Hair Spray.
· Step 4: Repeat with other section of pony tail, creating a bow-like shape.
· Step 5: Apply a small amount of Aveda Light Elements Defining Whip throughout remaining section of hair on other side of the head. Spray with Air Control Hair Spray before wrapping hair down and around the back of the head along the hair line, and up around the base of the pony tail. Secure with pins throughout to keep in place.
Odile explains that "this look is very intricate but the off-center bun above the ear is a very elegant, sophisticated evening style."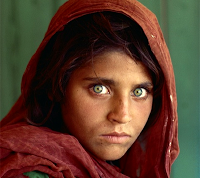 Inspiration: Inspired by Steve McCurry's famous "Afghan Girl" photograph from a 1985 issue of National Geographic (image enclosed), Phillip Lim wanted a beauty look centered around a beautiful, haunting Arabian eye. NARS International Makeup Director, Ayako, explained, "the eyes should be striking, but not smoldering or sexy; very gypsy-like." Creating the perfect balance of dark and innocent, highlighting the models' bright eyes and creating a dusty finish on the skin, Ayako referred to this look as "National Geographic Makeup."

How to recreate the look:
Face
· Apply NARS Concealer as needed, to cover any imperfections
· Apply NARS Firming Foundation only if needed, to keep a clear base
· Use NARS Multiple Bronzer in Cap Vert (New for Spring 2009) over entire face to tan
· Apply NARS Multiple in Orgasm over cheeks, forehead, nose, and chin
· Layer NARS Blush in Zen to create a dusty look
· Finish with a minimal amount of NARS Loose Powder to set the base
Eyes:
· Apply NARS Multiple in South Beach to entire lid, blending up to brow, and directly below lower lash line
· Apply a generous amount of NARS Eyeliner Pencil in Kitty around entire eye, on inner rim, and in between lashes, blending into South Beach with finger
· Layer NARS Eyeliner Pencil in Black Moon
· Apply two more alternating layers of Kitty and Black Moon, blending colors into lashes
· Use NARS Single Eyeshadow in Grenadines (New for Spring 2009) on entire lid, blending up to brows, and beneath lower lash line, smudging with finger
· Curl lashes with NARS Eyelash Curler
· Apply several coats of NARS Mascara in Black Orchid to top and bottom lashes
· Brush brows up and fill in with NARS Eyebrow Pencils, if needed
Lips:
· Apply NARS Lipstick in Shrinagar (New for Spring 2009) to entire lip with finger