SHOW: 3.1 phillip lim Men
LEAD ARTIST: Itsuki for NARS Cosmetics
TREND: Expressive eyes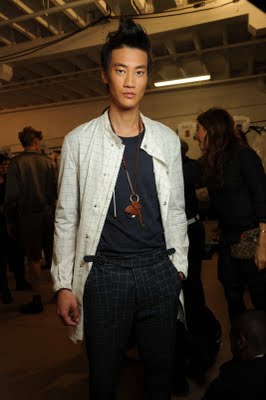 INSPIRATION: Phillip Lim's first men's presentation revolved around a combination of intellect and rebellion – reminiscent of 1950's beatniks. After war, groups of American poets, artists and writers (think: Jack Kerouac and Allen Gingsberg) came together in prominence with the cultural phenomena that was the essence of their writings. They stood for anti-consumerism, they fought the economic downturn and they demanded liberation… all, ironically, in style."I wanted the boys to look natural, come as you are, with a sensitive look, but still a bit masculine" explained designer Phillip Lim.
LOOK: Boyishly handsome. Itsuki focused on defining a man's most striking features, the jaw, eyes and cheek bones, while leaving the skin with a natural glow. "I wanted to make the eyes a bit stronger… sexy, but delicately masculine," said Itsuki.
Below are some key products and steps for recreating the look:
Face:
• Cover imperfections and dark circles with NARS Concealer
• Blend NARS Sheer Glow Foundation with fingers into skin
· Lightly pat a small amount of Orgasm Illuminator (NEW for Spring 2010) on the cheekbones and forehead
• Dust the jaw line with NARS Single Eyeshadow in Blondie, Bengali, or Bali (depending on skin tone) to accentuate a strong jaw
Eyes:
• Lightly dust eyebrows in upward strokes with NARS Bali Single Eyeshadow
· Use NARS Single Eyeshadow in Blondie, Bali, or Bengali (depending on skin tone) to lightly contour from the inner corner toward the outer corner
of the eye and along the bottom of the brow bone to create a deep-set effect
• Subtly rim the lower lash line with the same NARS Single Eyeshadow
NARS products are available at www.narscosmetics.com.
Like this post? Don't miss another one!
Subscribe
via my RSS feed.