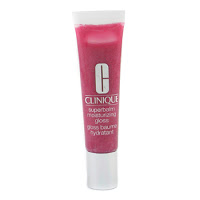 Girls, I've done you wrong. I've been raving in person so much about Clinique Superbalm ($13.50) that I actually convinced myself (wrongly) that I'd written about it. It's the #1 gloss in my rotation at the moment. In fact, I'm nearly out of it. It's non-sticky, moisturizing and long-lasting. It comes in eight colors, but as Daneen pointed out, you really only need it in Lilac, a for-everyone mauvey pink. I hereby award it HG status.
Stay tuned for Hairadise Week, coming shortly!
Click here to enter Total Beauty's contest to win a Saturn Vue Hybrid.