What a week we have to look forward to! In addition to Hairadise Week, Thursday will be the culmination of all things phenom in this beauty junkie's world: the LOST two hour season finale AND the Sex and the City movie (at midnight). In honor of my favorite SATC episode, "Ex and the City" (the finale of the second season), I ask you to recall this scene (my favorite scene of any show, ever):
What is so criminal is that I almost MISSED this episode. Can you even? I was studying abroad in France when it aired… and I'd thought I'd caught every ep that I'd missed, but this VERY crucial one slipped through the cracks. My friend Erika told me what's what and insisted I watch and to this day, it somewhat defines my lifestyle. I don't know what I did without it.
Carrie maintained the curly hair in four of the six seasons, just remember. She embraced her Katie Girl-ness and you can, too. With the right products, of course. Here's what I recommend from one Katie Girl to another.
Curl-Ease Towel, $20
This towel is, in a word, magical. It's made of a large, canvas-y fabric and comes in a pretty pink or white, depending on your style, of course. After showering, you squeeze out excess water from your hair and then wrap it up in this towel tucking the end into itself for 10-15 minutes. You hair will be damp when you take it off. Then, apply your products and allow the remaining wetness to air-dry. I find I eliminates more frizz using this towel than with anything else. The fabric is ultra thin, but impressively absorbent. What products should you use? Read on, dolls!

Blow Wave Maker, $20
I have been delighted with every Blow product I've tried thus far: their Blow Up Shampoo (sulfate-free!) and their Beach Blow Texturizing Mist. But for Carrie-worthy waves, you must employ Wave Maker, a lightweight flexible lotion that even protects strands from heat (if you choose to blow dry). Apply to damp hair and use fingers to twist and twirl small sections. The waves last all day, yet don't dry "crispy" a la 1988. I like to pair it with straightened-with-a-round-brush sweeping bangs to feel a little more polished.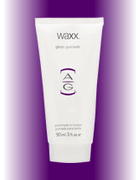 AG Waxx Gloss Pomade, $14
Once hair is dry, I like to finish with a dollop (not too much, or your hair will look wet, and that hasn't been cool since that Robert Palmer video for "Simply Irresistible") of this soft pomade for shine and touchability. Use it and be the envy of every Simple Girl in the room.
Tell me in the comments: what are your fave curly hair products?

Photo credit: unsalon.com, beautyofasite.com
Click here to enter Total Beauty's contest to win a Saturn Vue Hybrid.