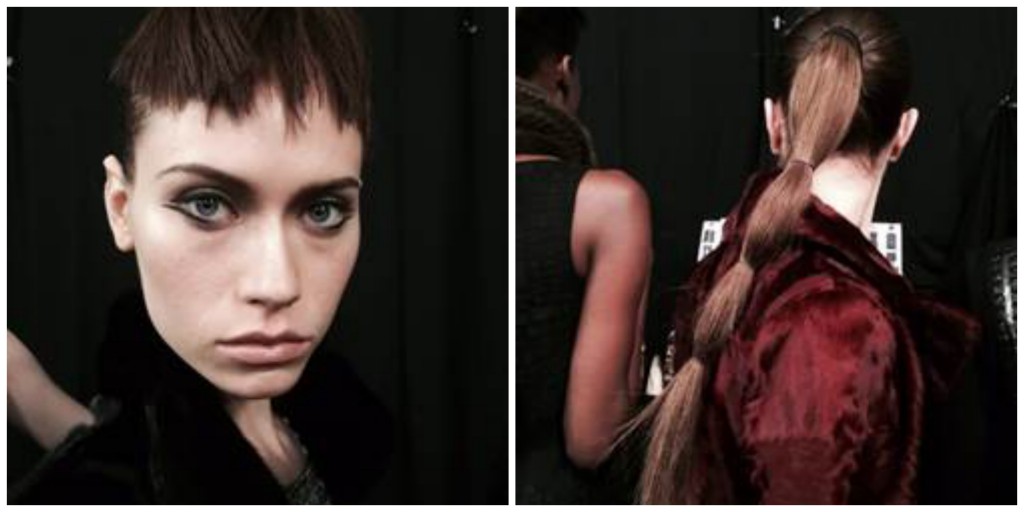 Mane man Ted Gibson created this Game of Thrones-inspired strong look backstage for Carmen Marc Valvo's Fall 2014 fashion show.  I'm living for its '80s-esque simplicity, its Wilma Flintstone bangs and smolderingly sexy undertones.
Says Ted,  "Carmen was inspired by Istanbul and the whole idea of a strong woman, so I couldn't do hair that was flat, romantic and pretty. I knew we had to do something really spectacular. So immediately I thought about ponytails, but had to do something fun and strong with it. We got leather pieces to wrap around the ponytail and did a tiered look. I also wanted to take it to the next level in the front and thought a fake fringe would be appropriate. The fringe brings emphasis to the face and makes the look tougher. I think faux bangs are so cool for any woman because she can get the look of a fringe without having to make the full commitment with cutting her hair. "
Step by step: 
1.Flat iron hair
2.  Add L'Oreal Professionnel's Architexture and brush back to smooth out hairline
3.  Create a centered ponytail with a bungee
4.  Add extension hair to ponytail
5.  Wrap and tie leather around bungee
6.  Use black elastics to make a tiered ponytail
7.  Add chunky clip-on bangs
8.  Finish with beautiful hold hairspray
What do you think of this look?