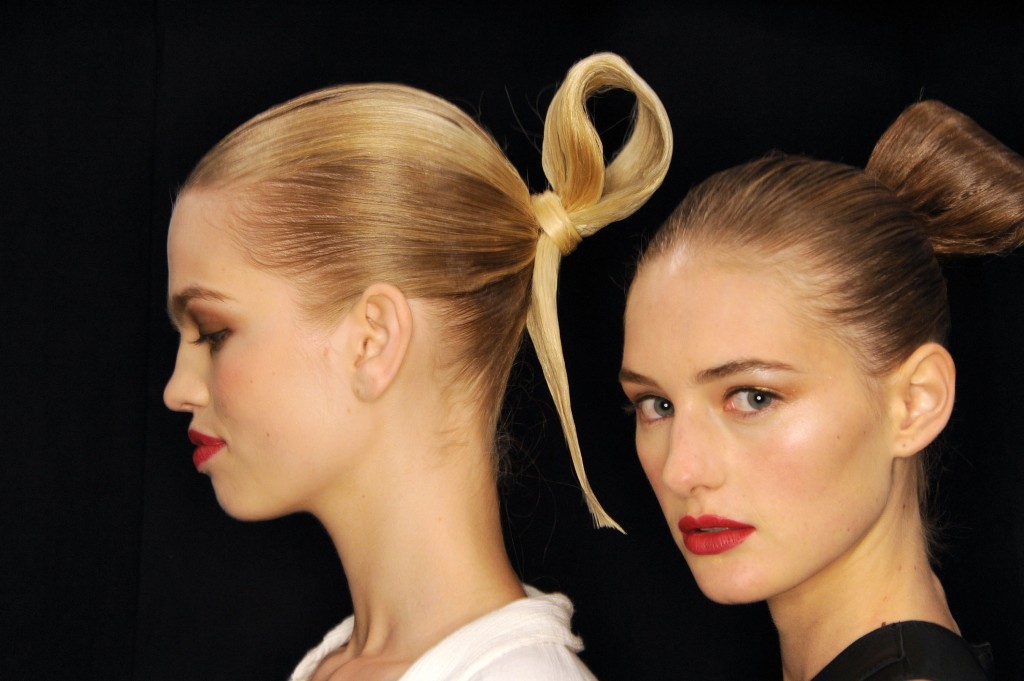 More in New York Fashion Week looks that are setting my beauty world ablaze: Orlando Pita for BioSilk created a "sleek, sculptural up-style I call the sumo-knot." I call it a scalpture, and it's beautiful. Says Orlando, "There is a Japanese influence in Carolina's collection this season with big floral prints reminiscent of a formal geisha gown and very precise, structured shapes with strong silhouettes."  If you're brave, here's how to attempt to recreate this style.
Apply a generous amount of BioSilk Firm Hold Finishing Spray to a brush and use it to sculpt the hair into a sleek ponytail that is secured with a band about 2 inches below the crown area.
Spray a generous amount of BioSilk Firm Hold Finishing Spray onto the length of the ponytail and work the product into the hair with the CHI TOUCH Touchscreen Dryer.
Run CHI G2 iron through the length of the ponytail.
Gently fold the ponytail in half to form an off-center looped bun with the remaining hair forming a tail diagonal to the bun.
Hold hair in place and position pins on underside of band.
Prep an extension piece with BioSilk Firm Hold Finishing Spray and cut the ends at a diagonal before adding to the ponytail.
Spray additional BioSilk Firm Hold onto the tail once extensions are in place and blow dry, using comb to blend.
Wrap a small extension piece around the elastic band and finish the look with thin layer of BioSilk Shine On.
What do you think of this look?
Fictionary is a column showcasing beauty-related words that don't exist, but should.