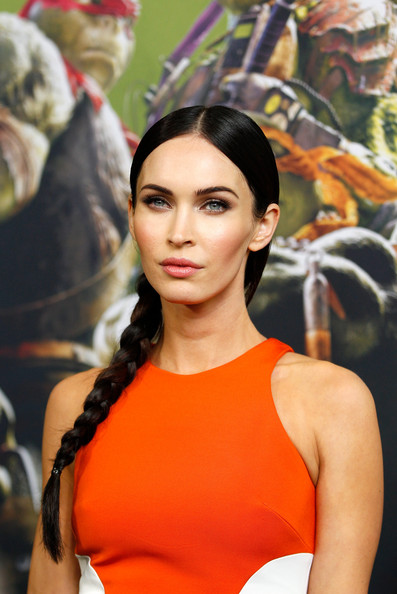 Monika Blunder created Megan Fox's stunningly chic makeup effect for the Sydney premiere of "Teenage Mutant Ninja Turtles" on Sunday, September 7th. The cuteness (Everdeen) hair is courtesy of Renato Campora, but that's a story for another time. Let's discuss the beauty breakdown, cosmetics-wise, courtesy of Monika. "Megan's dress was bright orange so I opted for a very natural, glowy makeup look.  I did not want the makeup to compete with the dress." Here, the step by step.
"I began by applying La Prairie Skin Caviar Concealer Foundation in Honey Beige all over her skin with a Beauty Blender.  This allowed for sheer, more natural coverage.  Megan has flawless skin so she doesn't need too much foundation, just a bit to even out her skin tone.  I also used NARS Concealer in Custard where necessary.
Megan's eyebrows are naturally amazing so I just filled them in where needed with Anastasia Brow Wiz Pencil in Brunette.
On her eyes, I began by applying NARS Dual Intensity Eye Shadow in Himalaya all over the eyelid and in the inner upper and lower corners.  To get some definition, I added Lorac Pro 2 Palette in Chrome in the socket and lower lash line.  Next, I curled her lashes and applied three coats of Sisley So Intense Mascara in Black on the upper and lower lashes.
On her cheeks, I began with Kevin Aucoin Creamy Glow in Sculpting Medium/Candlelight in the hollows of the cheeks and temples, and then added a bit of Lorac Baked Matte Satin Blush in Exposed on the apples of the cheeks.  I used Hourglass Ambient Lighting Powder in Luminous Light on the upper cheek bone.  I also used MAC Blot Powder in Medium, only in the t-zone.
On her lips, I used NARS Audacious Lipstick in Julie."
What do you think of this look on Megan Fox?