I'm loving this tequila sunrise eye and sleek '90s locks look on Gigi Hadid at the Sports Illustrated Swimsuit 2016 NYC VIP press event last night. Celebrity Jennifer Yepez did the hair honors, while Patrick Ta tended to makeup. Here, the beauty breakdown.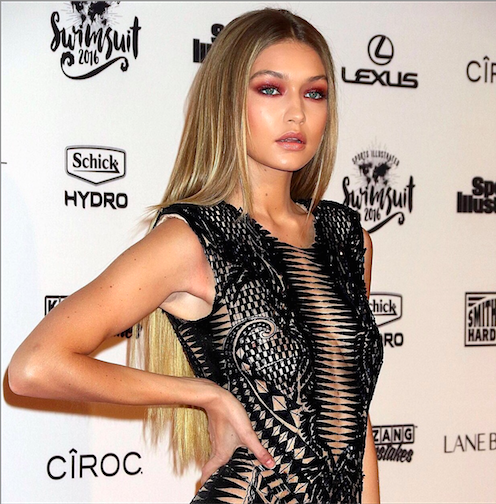 HAIR (Jennifer Yepez)
"Last night Gigi had this amazing see through body suit so we wanted something sexy and chic so I gave her long sleek hair."
"First shampoo and condition Your hair with Nexxus THERAPPE Shampoo & HUMECTRESS Conditioner to get the perfect base for this silky blowout then spray Nexxus Promend Heat Protecting Mist from mid shaft to ends. After I spray R&Co Dallas Thickening Spray from root to end.
Then section hair and start to blow dry with a large round brush as smooth as you can. Once you're done blow-drying Start exiting your hair for your extensions I like to start at the nape of the hair. I used Easilocks Multi Weft Extensions to get this this look. Depending on how much hair you have you would apply accordingly I usually do three rows in the back and then two on each side of the hair.
When you are applying your extensions I like to take a teasing comb and just tease lightly where you want to place the clips. That way the combs don't slide down and stay in the place when you're styling her hair and brushing it.
Once you are done placing your extensions I flatiron all the hair I like to go section by section starting in the back making my way up. After I am done flat ironing all the hair I use Kerastase Elixir Ultime Serum on the ends and comb all the hair."
MAKEUP (Patrick Ta)
"Gigi is undeniably stunning and one of my main girls that allows me to experiment and have fun with looks. Gigi loves fresh flawless skin but who doesn't? The inspiration for her Makeup look came from her outfit. We had been doing press for the last couple days and we wanted to do something bold yet beautiful something different that we normally do. We went for fresh glowy bronzy skin, and a muted lip to have all the attention on her eye shadow play because I wanted the burgundy pigment to be the star! The body suit was so form fitting so I knew with these eyes, hair and outfit the look would nothing but FIERCE."
"SKIN: I always love to prep my clients skin by cleansing which allows the makeup to look the best it can! Start with a refining cleanser to clean and brighten your skin for the foundation to lay smoothly.
SKIN: First apply a day cream to give moisture, any extra hydration will allow the makeup to lay beautifully on the skin. Under the eyes apply an eye cream to ensure there is no creasing. Apply Maybelline Dream Nude Airfoam Foundation to ensure the complexion will look clean and bright without looking too heavy. Lightly contour the hollows of your cheeks with a dark shade in the same foundation to accentuate your cheekbones. To highlight apply a concealer two shades lighter than the base foundation under the eyes to bring light to the area. Lightly powder the t-zone with Face Studio Master Fix Powder by Maybelline to allow the skin to look dewy in all the right places. Then for blush, apply a pinky bronze blush to the apples of your cheeks to tie the eye shadow color together. Spray the face with a setting spray to give your skin a natural luminous finish.
EYES: To get the look I used a pinky bronze blush in the crease to create that transition color. I didn't have the perfect color so I had to mix two pigments by layering them. First apply Maybelline Eye Studio Color Tattoo Pure Pigment in Pink Rebel to the lids with a sense flat brush and light blend up with a Mac 217 brush.  Lightly apply Maybelline Eye Studio Color Tattoo Pure Pigment in Improper Copper on top to create burgundy, if you have burgundy already of course just go straight to that color!  Curl your lashes twice and coat twice with black mascara. I didn't want to apply lashes because I felt the lashes would hide the eyes-shadow color!
BROWS: She has great brows already so I kept them natural and combed up with a brush to have all the hair in the same direction.
LIPS: To complete the look, apply Maybelline Color Sensational Lip Color in Nude Lust and top it off with Chapstick
Remember when wearing a bold eye or color you want to let that color shine so to make color work keep the rest of the face clean and fresh and color will be cool Instead of tacky."