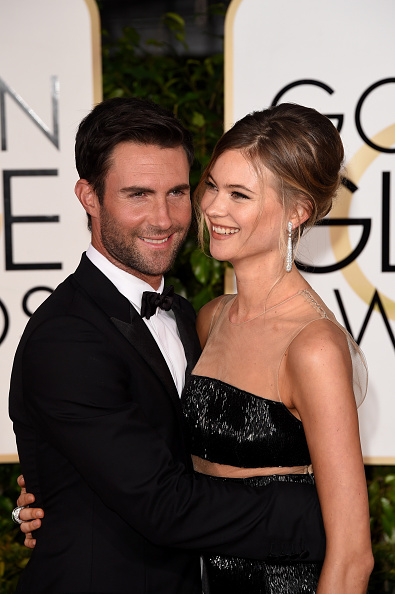 In news that will shock exactly not one person, Behati Prinsloo was a vision at the Golden Globes on Sunday. Her minimalistic makeup and Bardot twist were perfectly executed. Here, the beauty breakdown. 
MAKEUP
Monika Blunder Prensena kept the eyes as the focal point and highlighted Behati's flawless skin.
STEP 1: Monika applied L'Oréal Paris RevitaLift Miracle Blur ($24.99) to the entire face to prime and hydrate the skin
STEP 1: Next, she covered the face with L'Oréal Paris Infallible Pro-Matte Foundation ($14.99) using a wet beauty blender, and applied a touch of L'Oréal Paris Visible Blur Concealer ($12.99) under Behati's eyes to brighten the area
STEP 2: For the eyes, Monika used  L'Oréal Paris Infallible Eye Shadow Crayon in Forever Taupe ($7.99) in the crease, and then L'Oréal Paris Infallible 24hr Eye Shadow in Iced Latte ($7.95) all over the lid and inner corners
STEP 3: She used L'Oréal Paris Infallible Smokissisme in Black Smoke ($9.99) to create a soft winged eye, lining the entire eye thinly then gradually getting thicker on the outer corner
STEP 4: Monika then applied three coats of L'Oréal Paris Voluminous Butterfly Intenza Waterproof Mascara ($8.99) to the top lashes and one coat on the bottom lashes. For extra drama, she added a few individual lashes to the outer corners of the eyes
STEP 5: She dabbed the lips with L'Oréal Paris Infallible Pro Lip Colour in Everlasting Caramel ($12.99) and then set the entire look with L'Oréal Paris Infallible Pro-Spray & Set Makeup Extender Setting Spray ($16.99) to ensure makeup stays in place through the evening
HAIR
Celebrity hair stylist, Gio Campora, states "My inspiration for Behati's look was Brigitte Bardot, but we made it a little more undone for a modern twist."
Starting with wet hair, Gio worked in KMS California ADDVOLUME volumizing spray and KMS California FREESHAPE quick blow dry, then blew the hair dry using a round brush. The combination of these two products allowed for a sufficient blow dry.
Next, Gio curled her hair using a 1'' curling iron. Afterwards he put it up in rollers to keep the volume. Once her makeup was done he brushed out the hair, pulled it back and pinned into a bun, loosening some strands on the side to give it a modern, undone take.
He then rubbed KMS California TAMEFRIZZ taming creme onto hands and brushed them along the sides of her hair focusing on the loosened ends to keep down fly aways.
To set Behati's hair he sprayed KMS California HAIRSTAY medium hold spray liberally on hairstyle to ensure it all stayed in place.
What do you think of Behati Prinsloo's award-show look?