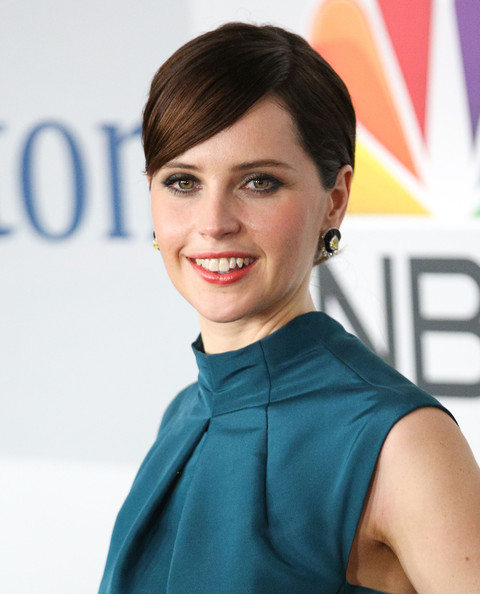 Felicity Jones looked Helen of TROY levels of beautiful at the Golden Globes in a smooth chignon and coral-orange pout, thanks to beauty dream team, makeup artist Sabrina Bedrani for Dior Beauty and hairstylist Tommy Bucket. Here, the details on how to get the look.
MAKEUP
"We all collaborated on what we thought the look should be, but the inspiration for the makeup look definitely came the dress. I wanted to go for a contemporary and fresh look, to compliment the very chic, timeless, and elegant Christian Dior gown she is wearing. I wanted the main focus to be on her eyes. I first lined the top of her eye with the new black Diorshow Khôl stick and smudged it to pull it outward to extend the corner of her eyes. I then added the darkest green of the Dior Spring 2015 5 Couleurs palette "House of Greens" on just the outer corner of her eye, blending it inward. I did the same in the lower lash line. To complement the beautiful green of the dress, I chose a coral-orange Dior liner and lipstick to add a soft pop of color."
COMPLEXION:
NEW Dior Capture Totale Le Sérum
Dior Pore Minimizer Skin Refining Matte Primer
Diorskin Star Foundation in Light Beige #020
EYES:
NEWDiorshow Khôl Stick in Smoky Black #099
NEW Dior Spring 2015 "Kingdom of Colors" 5 Couleurs Eyeshadow in House of Greens #466 (Limited Edition)
Diorshow Black Out Mascara in Khôl Black #099
Diorshow Brow Styler in Universal Brown #001
LIPS:
Rouge Dior Contour LipLiner Pencil in Spring #468
Rouge Dior Lipstick in Plisse Soleil #532
HAIR
Tommy Bucket did the hair honors. Here, the step by step.
1. Beginning with damp hair, Tommy used the T3 Featherweight Luxe 2i Dryer and the T3 AntiGravity 2.5" Barrel Brush to maintain volume and shine.
2. Once dry, Tommy created a deep side part and used the T3 SinglePass Straightening & Styling Iron from the mid-shaft to ends to seal in a healthy shine.
3. He then proceeded to backcomb the hair to form a small bump at the crown of the head.
4. Tommy then gathered the hair into a low ponytail at the nape of the neck and smoothed the entire head with a combination of serum and gel, creating hold and shine.
5. To finish, Tommy tied the ponytail into a small knot and loosely secured it at the nape of the neck with several bobby pins, creating a youthful, low chignon. Tools used: T3 Featherweight Luxe 2i Dryer, T3 SinglePass Straightening & Styling Iron, T3 AntiGravity 2.5" Barrel Brush.
What do you think of this look on Felicity Jones?