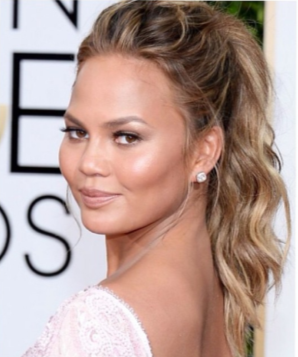 One of my favorite hair looks of the night was Chrissy Teigen's perfectly undone-done chic, tousled pony. Celebrity Hairstylist and International Creative Director for Macadamia Professional, Giannandrea created the look. See below for steps and products.
Step 1: Apply Macadamia Professional Foaming Volumizer on wet hair before blow drying the whole head with a large round brush, to create ample volume at the roots and length.
Step 2: Use a 1-inch curling iron and curl the whole head in waves.
Step 3: Once the hair was set in waves, use a generous dollop of Macadamia Professional Whipped Detailing Cream and run hands throughout the hair, using fingers to create supple separation and texture all the way through the ends.
Step 4: Gather hair into a high pony tail, slightly below the crown. Tie the pony into an elastic band and take a small section of hair from the ponytail and wrap it around the elastic band covering it. Keep the pony playful by using your fingers to open it up and make it wide, textured and volumized.
Step 5: Make sure it's not too tight around the face by creating volume at the front with separation. Leave some fly aways on the sides for an effortless look.
Step 6: Spray in place with Macadamia Control Working Spray to protect against humidity and set for a night out.
What do you think of Chrissy Teigen's look last night?