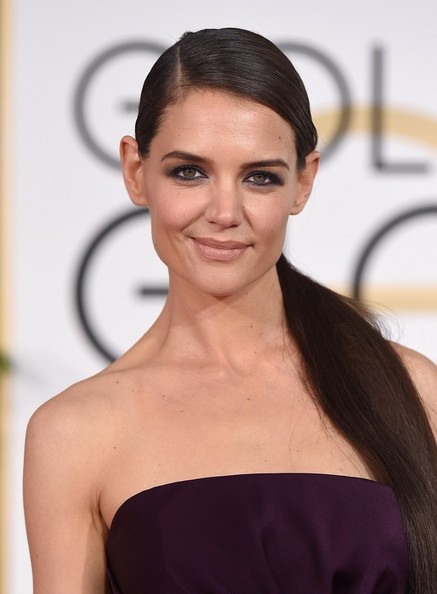 DJ Quintero for Alterna Haircare created this Malibu-Barbie style for Katie Holmes. Katie wasn't wearing any jewelry, so DJ created a deep-parted, low pony-tail to compliment her striking features and elegant, bare neckline.
STEP 1: Katie had just arrived from the beach, so DJ treated her dry hair with a boost of hydrating Alterna Haircare Bamboo Smooth Pure Kendi Treatment Oil ($25), letting it soak for 10 minutes.
STEP 2: DJ washed Katie's hair with Alterna Haircare Caviar Replenishing Moisture Shampoo & Conditioner ($32 each).
STEP 3: On damp hair, DJ mixed a small amount of the Alterna Haircare Caviar Seasilk Oil Gel ($28) with the Alterna Haircare Caviar Anti-Aging Omega (+) Nourishing Oil ($38), and brushed it through with a Mason Pearson brush.
STEP 4: Using a large round brush, DJ blow dried Katie's hair on high-heat and parted it far to Katie's left-hand side.
STEP 5: DJ prepped Katie's dry hair with the Alterna Haircare Caviar Perfect Iron Spray ($28), and then used a thin Sedu Revolution Diamond flatiron, from root to tip, to create a super smooth look.
STEP 6: DJ gathered Katie's parted hair low at the nape of her neck, and secured it using a hair bungee. He wrapped several small pieces of hair around the bungee to hide it, and secured those strands with bobby pins.
STEP 7: DJ finished by spraying a supple amount of Alterna Haircare Caviar Perfect Texture Finishing Spray ($28) to the top of Katie's head, and applied a dime-size amount of Alterna Haircare Bamboo Smooth Kendi Dry Oil Micromist ($25) to her ends.  
 What do you think of Katie Holmes' lengthy ponytail at the Golden Globes? Yay or nay (or neigh)?