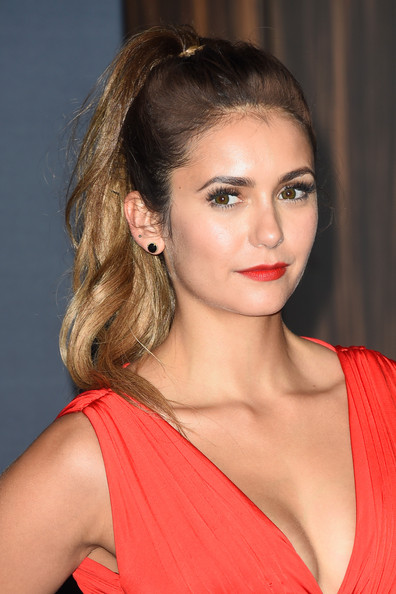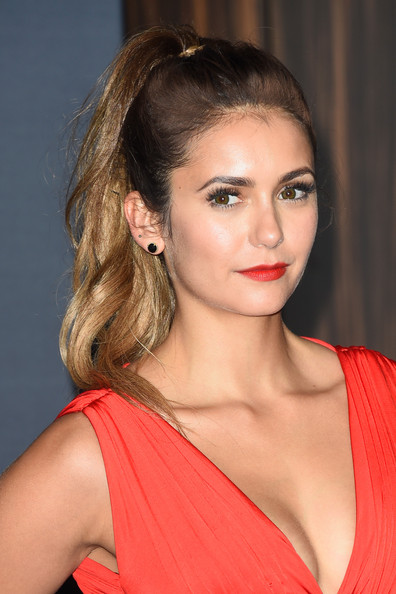 It was a night celebrating the high pony, thanks to Ariana Grande's cheerleadery style and of course, Nina Dobrev's. Celebrity hairstylist Riawna Capri for Garnier Fructis created the look for the latter to don with her Zuhair Murad dress. "The back of Nina's dress had an intricate and cool design with a tassel tie hanging from the back, and we wanted to be able to show that off," she said. "We opted for a texturized high ponytail with lots of volume." Here's how Riawna got the look
First, Riawna gave Dobrev a beautiful, voluminous blow out with a round brush to give the hair the perfect foundation to create a ponytail with lots of texture. Before blowing out the hair, Riawna applied Garnier Fructis Sky-Hi Volume Mousse to damp hair to ensure maximum volume is achieved in the blow out.
Next, Riawna put two large rollers in the bang area to give extra lift at the roots and sprayed it with Garnier Fructis Volumizing Anti-Humidity Hair Spray before pulling the hair back into a high ponytail using a hook rubber band. To hide the hook rubber band, Capri took a small piece of hair, braided it into a skinny braid and wrapped it around the ponytail base. Riawna used a 1 ¼ Hot Tools NexGen Curling Iron to curl the hair vertically, but leaving the ends a bit straight. She then used Garnier Fructis De-Constructed Texture Tease Dry Touch Finish Spray all over the ponytail to give it body. Afterwards,Riawna split the ponytail in half so she could tease the top sections of the ponytail and give it a lift.
Once the ponytail look was in place, Riawna teased the roots of Dobrev's hair and gave her bangs some volume by using the end of a tail comb to help lift the hair around the crown. Finally, for the perfect, healthy glow finish and control the flyaways, Riawna set the entire look with Garnier Fructis Full Control Anti-Humidity Spray.
What do you think of last night's high-ponytail trend?