Celebrity stylist Chris Naselli used TRESemmé to create a bold, textured ponytail with unstructured randomized braids for actress Alicia Vikander. "The look is an unexpected pair with her detailed Louis Vuitton dress, which gave a modern urban warrior vibe," said Chris. Here's how to get the look.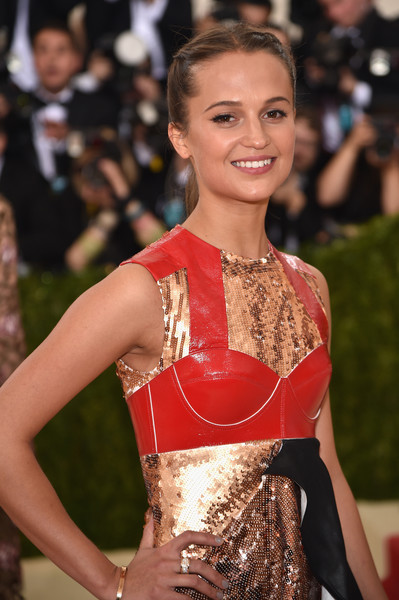 1. Wash hair with the TRESemmé Beauty-Full Volume Pre-Wash Conditioner and TRESemmé Beauty-Full Volume Shampoo to prep for a touchably soft, voluminous look.
2. Apply TRESemmé Beauty-Full Volume Touchable Bounce Mousse to damp hair from roots to ends then blow dry with fingers for maximum volume and texture.
3. Once dry, create a center part and begin braiding a section on either side of the part back and away from face.
4. Use fingers to rake hair back into a ponytail at the crown and secure with an elastic.
5. Take a small section from under the ponytail and lightly tease and spray with TRESemmé Beauty-Full Volume Hairspray before wrapping around the base of the ponytail, secure with a bobby pin.
6. Apply another dollop of TRESemmé Beauty-Full Volume Touchable Boune Mousse and scrunch into the dry ponytail to create additional texture.