While I often braid my hair on my own or have my mom do it, hair care like deep conditioning and blowouts were always regulated to the salon. In this new age of quarantine and closed salons, I've been forced to adapt and find products that allow me to do my own hair, start to finish, at home.
This has been and continues to be a process of experimentation, but here is my current holy grail routine for a blow out. For reference, I have natural (never chemically straightened or colored), type 4 kinky curly hair.
*We're committed to transparency. Products marked with an asterisk were given to us to try by the brand. As always, all thoughts expressed on Rouge18 are our honest opinions.
1. Section Hair: Satin Scrunchies
When you have kinky, coily, or tightly curled hair, sectioning your hair is key! Working in smaller sections limits tangling and lets you give each part of your hair the attention it deserves. I do all of the following steps in sections. I start with larger sections to wash and condition my hair (about 4 equal sections) and move to smaller sections when I am blow drying (16-24 smaller sections).
Using satin scrunchies to tie each section helps prevent any tangling or pulling. The satin scrunchies slide off my hair without drying it the way cotton fabric does and without catching on my hair and causing breakage the way rubber bands would.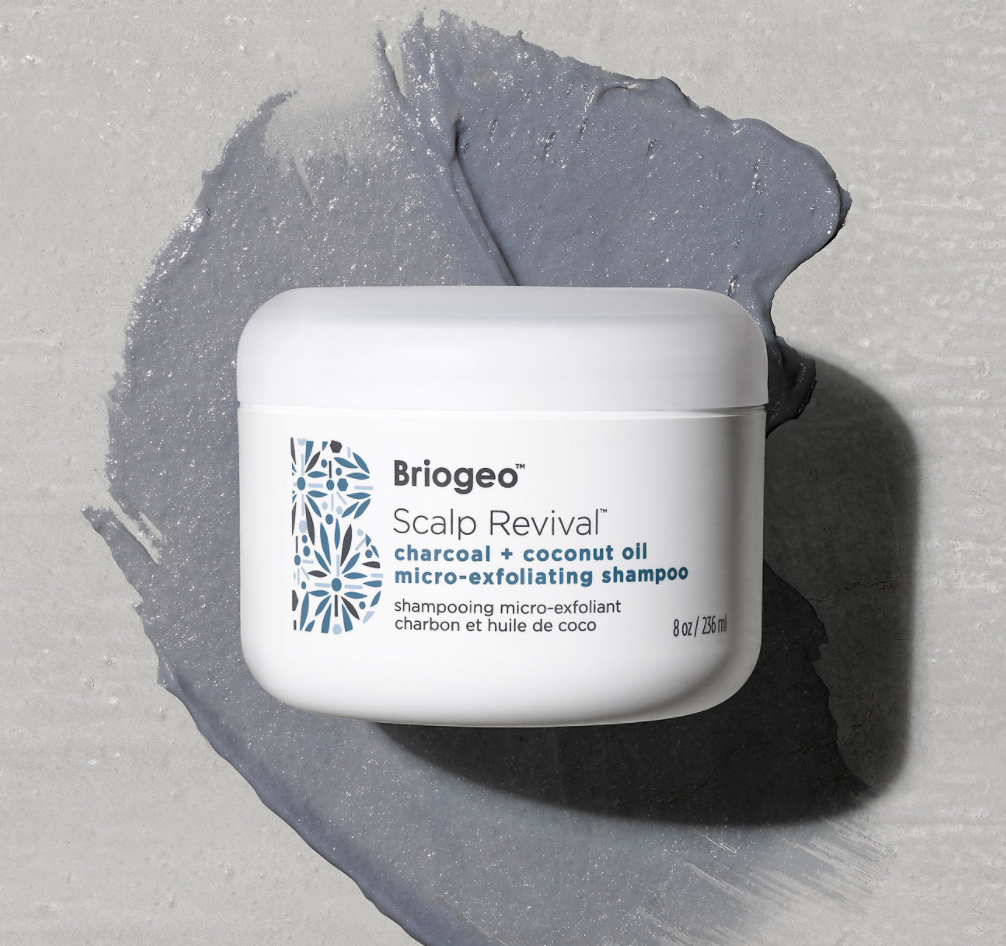 2. Scalp Cleanse: Briogeo Scalp Revival Charcoal + Coconut Oil Micro-Exfoliating Scalp Scrub Shampoo
Because I typically wear my hair braided, I like to start of my washes with a good scalp scrub to decongest my scalp and remove any product buildup. This Briogeo scalp scrub is especially great because it contains peppermint and spearmint oils that make your scalp feel amazingly refreshed.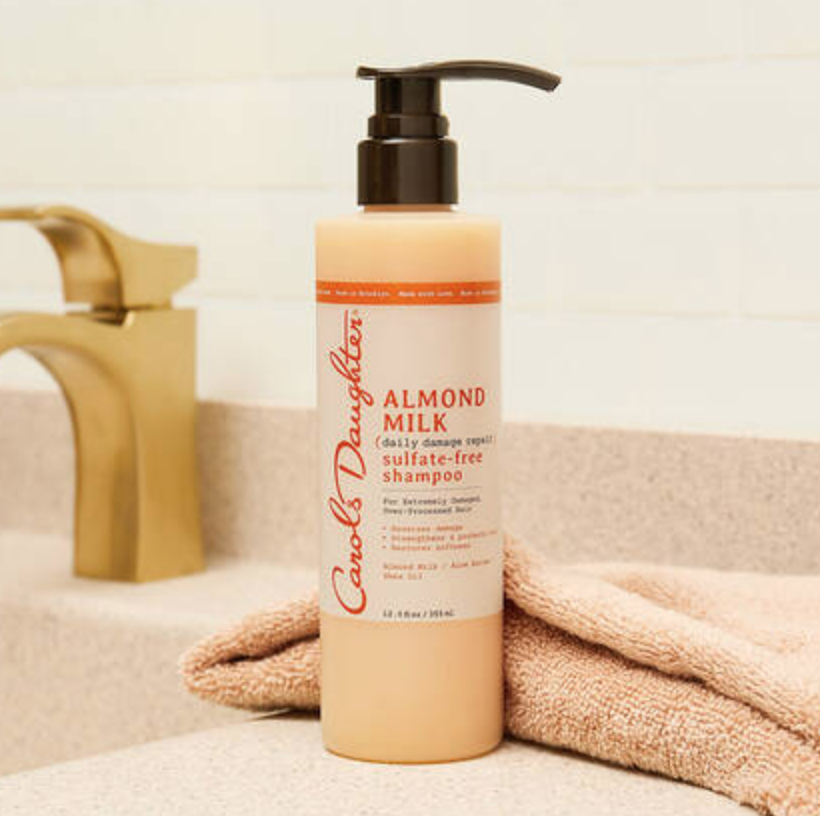 3. Shampoo: Carol's Daughter Almond Milk Sulfate Free Shampoo
My hair type needs all the moisture it can get, so I love a sulfate-free shampoo because it cleanses my hair without needlessly stripping it of moisture. Plus, this shampoo contains a blend of oils to restore hair and combat any damage.
Pro Tip: A tip I learned from natural hair YouTuber NappyFu is that, to limit tangling while you wash your hair, rake your hands through your hair in a downward motion (from root to tip) whenever you are applying, lathering, or washing out product. The natural tendency is to move your hands in every which way to massage the product in and wash it out, but doing this just encourages tangling.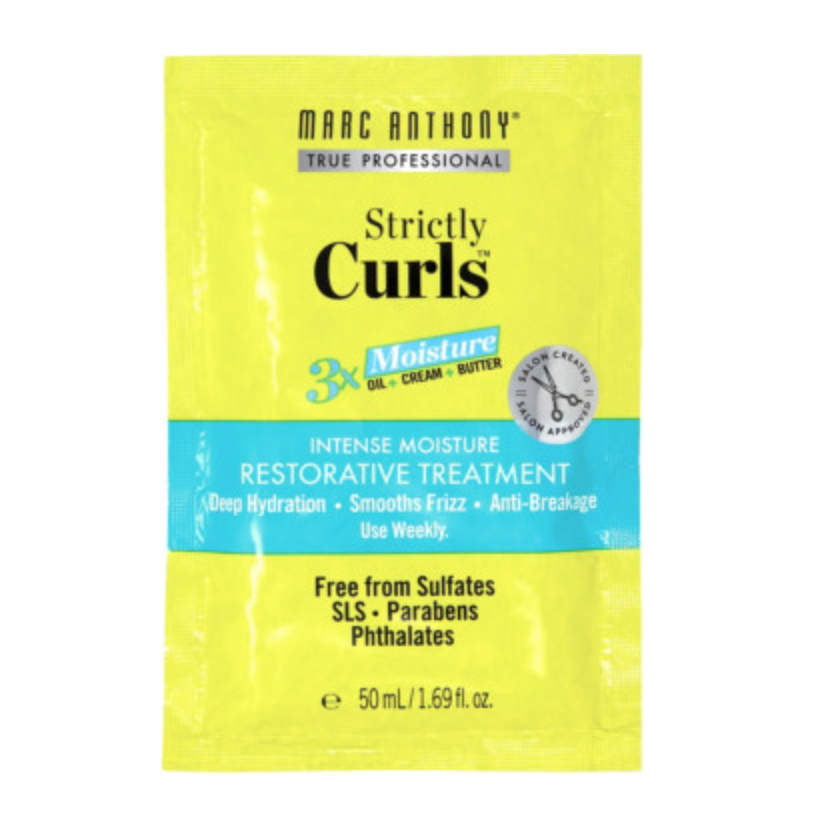 4. Hair Mask: Marc Anthony Strictly Curls 3X Moisture Restorative Treatment*
This hair mask is amazing! It's so moisturizing, defines my curls, and makes detangling a breeze. I saturate my hair with the product and let it sit for the recommended 3-7 minutes. I also keep my hair wrapped in a plastic cap when using this treatment to get the extra absorption benefits of the heat from my head.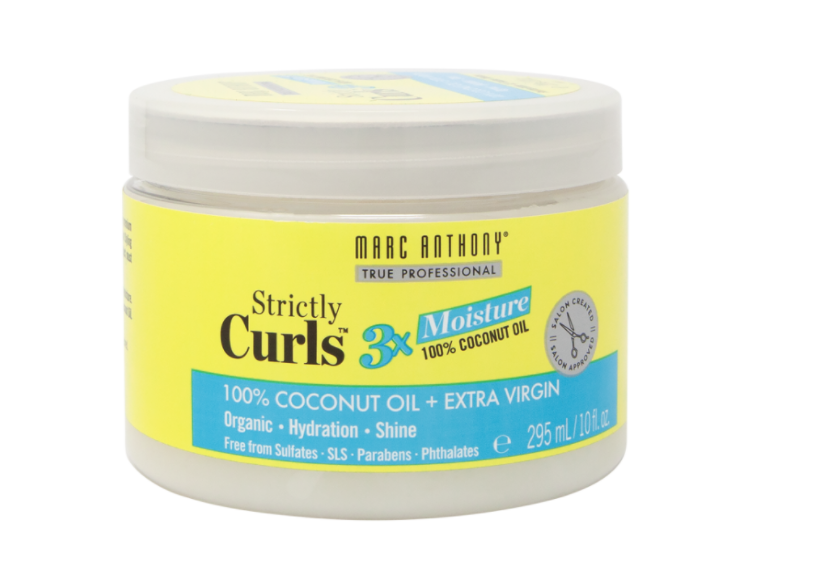 5. Oil: Marc Anthony Strictly Curls 3X Moisture 100% Coconut Oil + Extra Virgin*
After I am done with the washing stage of my routine, I turn to locking in moisture. I have been using the LOC method for moisturizing my hair, which calls for liquid, oil, cream—in that order. The liquid I use is the water/ dampness left from rinsing out my treatment mask. Next, I use this Marc Anthony coconut oil as the oil step. I chose coconut oil because it's a penetrating oil, meaning it will penetrate hair rather than sit on top of the hair and prevent other products from being absorbed (those types of oils are called sealing oils).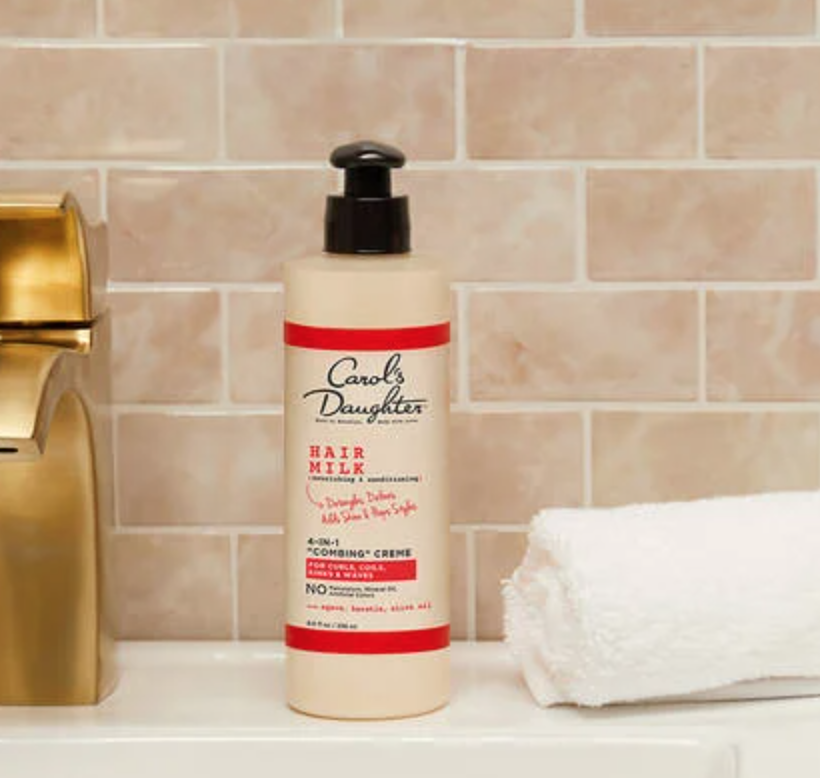 6. Detangler / Cream: Carol's Daughter Hair Milk 4-In-1 Combing Creme
For the final step in the LOC method—cream—I like to use this combing crème. Not only does it lock in the moisturizing products I just applied, it makes the next step—detangling—easier.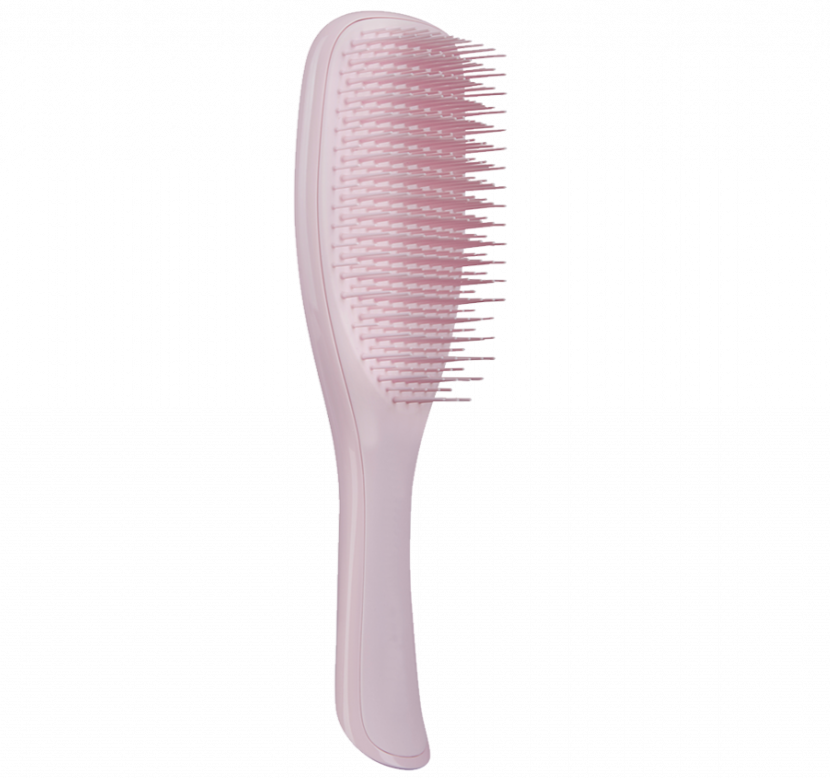 7. Detangling Brush: Tangle Teezer The Ultimate Detangler*
Anyone with natural hair can tell you, detangling is the most dreaded step of any wash routine. Luckily, the products and techniques I used before this step helped limit any tangles and made detangling pretty easy. My favorite tool for detangling is The Ultimate Detangler from Tangle Teezer because its handle makes it much easier to maneuver (compared to the original Tangle Teezer) and its soft bristles detangle without causing breakage.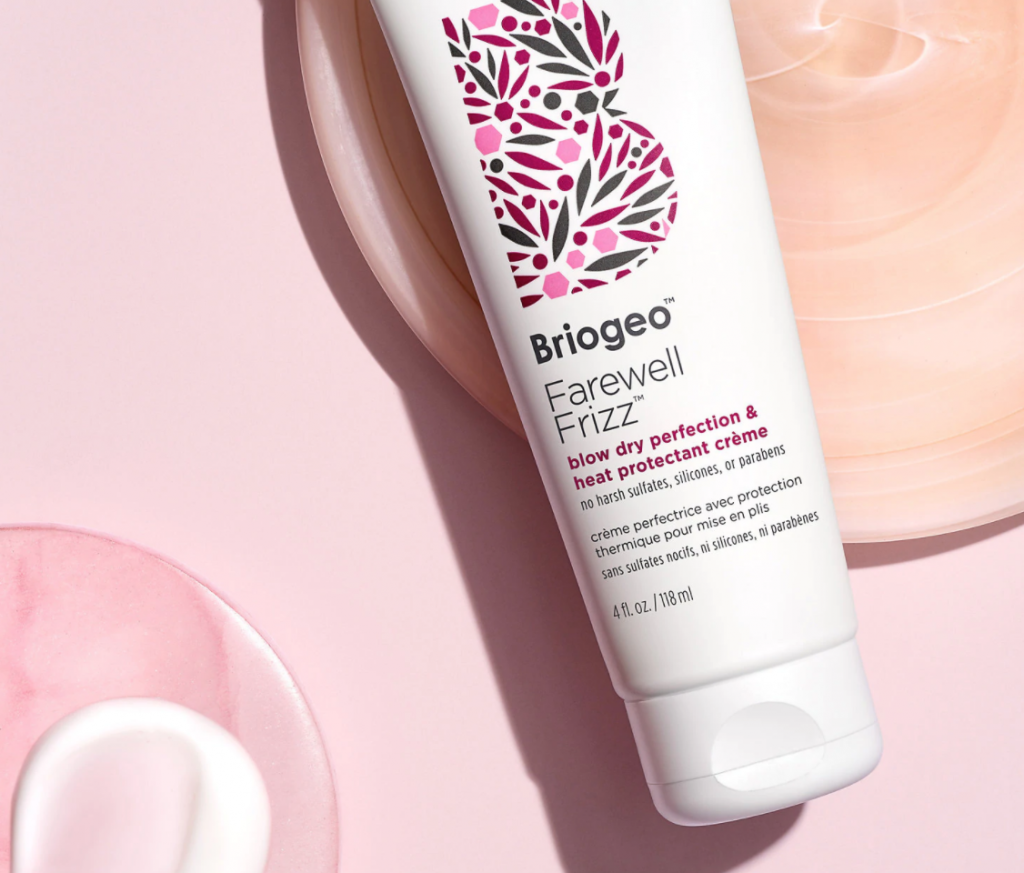 8. Heat Protectant: Briogeo Farewell Frizz Blow Dry Perfection Heat Protectant Cream
Once my hair is detangled and ready for blow drying, I apply a heat protectant to protect my hair from heat damage. I like this heat protectant from Briogeo because it's silicone free.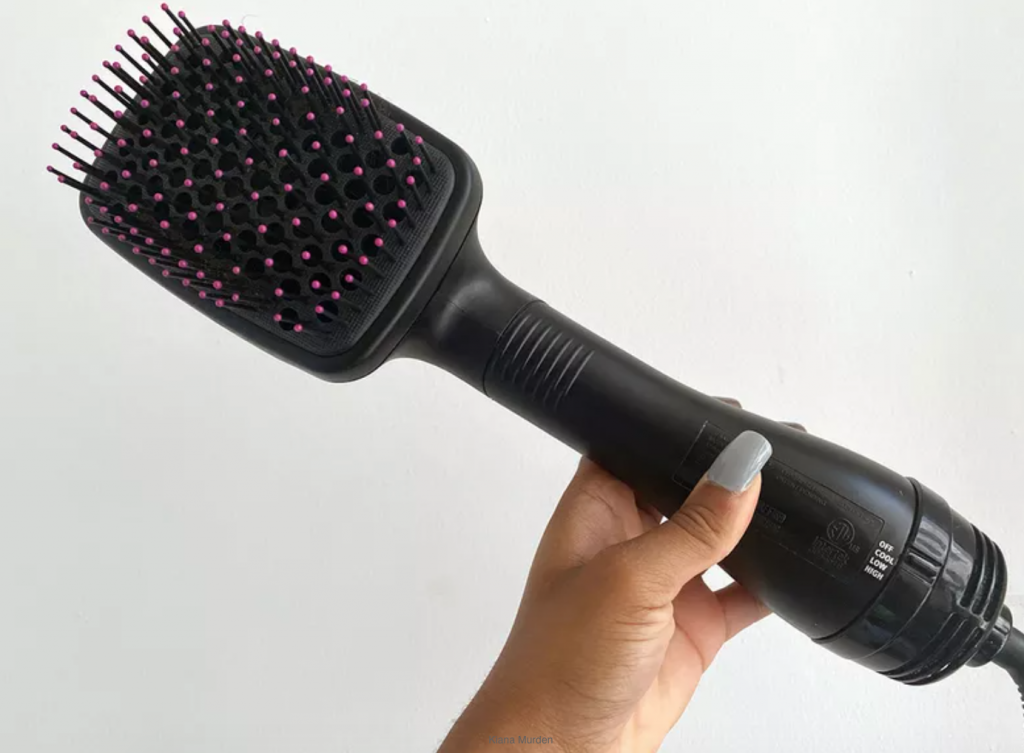 9. Blow Dry: Revlon One-Step Paddle Dryer
This is the star of the show! Blow drying my own hair with a conventional blow dryer is a hassle and rarely gives me the level of stretch I'm looking for. Enter my savior: the Revlon One-Step Paddle Dryer. Because this blow dryer is shaped like a brush, it's much easier to handle. In just a few passes through each small section of my hair this dryer stretches my hair much better than I ever could with a conventional dryer. I can't recommend it enough!
And here's the finished look: