The trend of the night? Long, long ponytails at the MTV Movie & TV Awards on Satruday evening. This one on Alison Brie was one of my faves, created by celebrity hairstylist Robert Vetica using Leonor Greyl products. It's so "Valley Of The Dolls," no?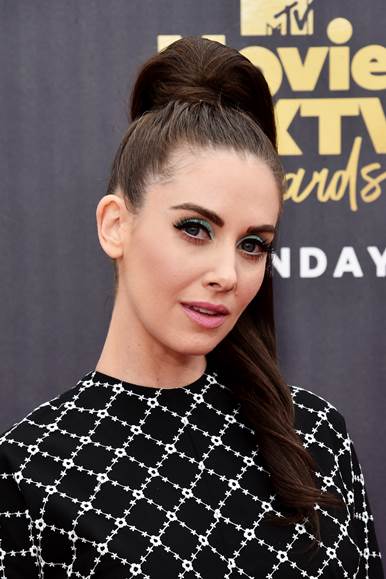 "Our inspiration for the look was the '60s—we wanted to go very mod to complement her sheer Sandy Liang gown. I did the look in two separate sections—the ponytail piece and the base of the style. To prep the ponytail, I took the wet hair extension and brushed it through, then apply Leonor Greyl Serum Soie Sublimateur for an easy blowout that still had plenty of shine. I then rubbed Leonor Greyl Eclat Naturel styling cream between my hands and ran them through the ponytail to smooth it out and add body. To create the curls, I used a 1 ½-inch curling iron on large sections of hair, spraying them withLeonor Greyl Laque Souple styling spray on the mid-shafts to the end for soft, touchable hold.
To create an anchor for the ponytail, I sprayed Alison's dry hair heavily with Leonor Greyl Spray Structure Naturelle stying spray, directing the hair upwards with my brush. I guided the hair into a topknot, continuously combing and spraying the hair as I worked to guarantee a strong, tight base for the style.
Once the topknot was in place, I sprayed it with Leonor Greyl Laque Souple for hold and shine, then covered the topknot with a hair net to contain flyaways and make attaching the ponytail easier.
After securing it in place and concealing the hair net and base knot with hair, I applied on more Eclat Naturel and brushed the ponytail lightly to ensure the look was stable and had gorgeous shine. The finishing touch was a final spray of Laque Souple around the hairline and edges to keep it looking sleek, shiny, and mod."
Leonor Greyl products are available at www.neimanmarcus.com