Celebrity makeup artist Leslie Lopez created a beautiful metallic makeup look to complement Sarah Jessica Parker's ensemble by designer Monse for the 2016 Met Gala, Lopez and Parker agreed that she would wear a "very bold, metallic eye," which inspired the rest of the effect. Here, the beauty breakdown.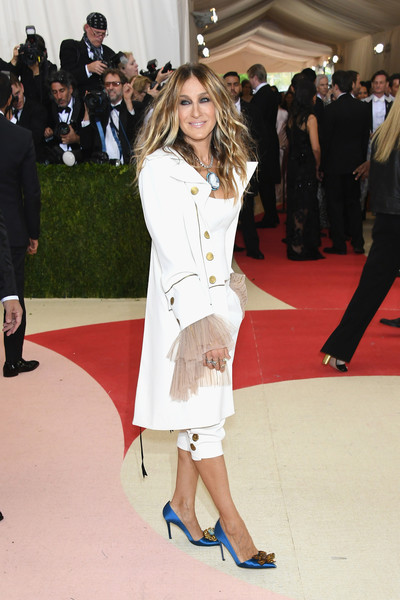 PREP:
· Lopez prepped Parker's skin with RéVive Intensité Les Yeux ($225) around her eyes, followed by RéVive Moisturizing Renewal Cream Suprême ($195) on her face.
· Lopez stated, "I always like to moisturize her skin and let it set for 15-20 minutes before I start applying makeup."
SKIN:
· Next, with her fingers, Lopez applied Laura Mercier Silk Crème Moisturizing Photo Edition Foundation in Bamboo Beige ($48) to achieve an all-natural glow. Lopez shared, "I like the foundation to be light – so the skin can look natural and be seen. To achieve this, I only applied the foundation where it was needed to even the skin's texture."
· She then layered on Laura Mercier Shimmer Bloc in Golden Mosaic ($44) mixed with Laura Mercier Face Illuminator Powder in Seduction ($44) to the apples of her cheeks, temples and décolletage. This combination of products helped to create a beautiful, sun-kissed look.
EYES:
· Next, Lopez applied Laura Mercier Caviar Stick Eye Colour in Tuxedo ($29) and mixed it with Laura Mercier Caviar Stick Eye Colour in Rosegold ($29) on the eye lids to make it bit lighter. She then used her fingers to blend in Laura Mercier Caviar Stick Eye Colour in Gilded Gold ($29) under Parker's eyebrow bone.
· She completed the eye look by curling the star's lashes with Shu Uemura Eye Lash Curler ($20) and topped them off with a few coats of Rimmel London Extra Super Lash Mascara ($3.39).
· Lopez shared "Bold eyes are always the priority for Sarah. She loves a good, strong eye and loves using Laura Mercier Caviar Stick Eye Colour in Tuxedo."
LIPS:
· She created a natural lip by layering NEW Laura Mercier Velour Lovers Lip Colour in Infatuation ($28) and Laura Mercier Lip Glace in Bronze Gold Accent ($25).