Fictionary is a column showcasing beauty- and holiday-related words that don't exist, but should.
Adrenaline-shot recipient, Pulp Fiction's Mia Wallace, played by Uma Thurman, changed the lipstick and lacquer landscape of the '90s. Few other movie characters can claim such an impact–and especially during such a patently unchic time when fashion and beauty were left to draw inspiration from the emerging Seattle music scene as many major influencers in fashion at this time were tragically dying of AIDS. Her sleek dusky bob, her smokily lined eyes and quirky locutions like "I'll be down in two shakes of a lamb's tail" positively empowered all of us to delve into decadent deep shades and launched the insanely popular Chanel "Rouge Noir," later renamed Vamp. It was created to mirror the hue of dried blood and its first year alone sales grew to $1 million. To the casual movie buff, Mia Wallace recalls a Willow filter take on Scarface's Elvira Hancock in both personality and looks. But did Elvira spawn two eras of glampire beauty moments, spanning 20 years? Mia Wallace also schooled us on world's tendency to divide between Beatles vs. Elvis people. One cannot claim equal allegiance to both. It's vital that you understand this.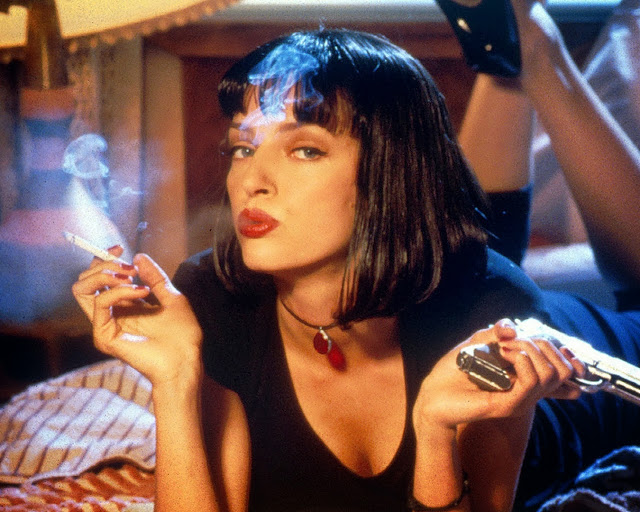 So Chanel polish devotes, I have good news and bad news. The good news is that Chanel has reformulated their iconic nail lacquer range to be long-wear and they're launching new shades in addition to a few of its iconic hues. The bad news? The bran discontinuing all its other shades. Call it a reVAMP, if you will.
In addition to new limited-edition spring and summer colors, the line boasts phenomenal texture, finish and durability. The new 50free formula has bioceramics to prevent chips and streaks for seven days, ceramides to protect the health of the nails, and a glossy, gel-like finish, no LED required. I love the new base coat by itself to treat my nails in between manicures: It's pigmented enough to make my look deliberate. The polishes won't be available until March, but you can head over to Chanel's website to sign up to be among the first to receive more information about the launch.